It's the end times.
Editor's Note: The following article contains spoilers for all of Season 4 of Stranger Things.
Since the release of Volume 1 at the end of May, anticipation, and anxiety have been mounting for the conclusion of the fourth season of Stranger Things. As the battle against Vecna (Jamie Campbell Bower) grows closer, our beloved characters find themselves, for the first time in the series, in other parts of the country and the planet. Each group is making preparations for the final stand in the lead-up to the roughly two-and-a-half-hour-long climax to preserve Hawkins and the world from Vecna's scheme to meld our reality with the Upside Down.
The following is a synopsis of everything that took place with each of the groups, as well as an explanation of what the significance of this episode is for the continuation of both the series and Hawkins.
Russia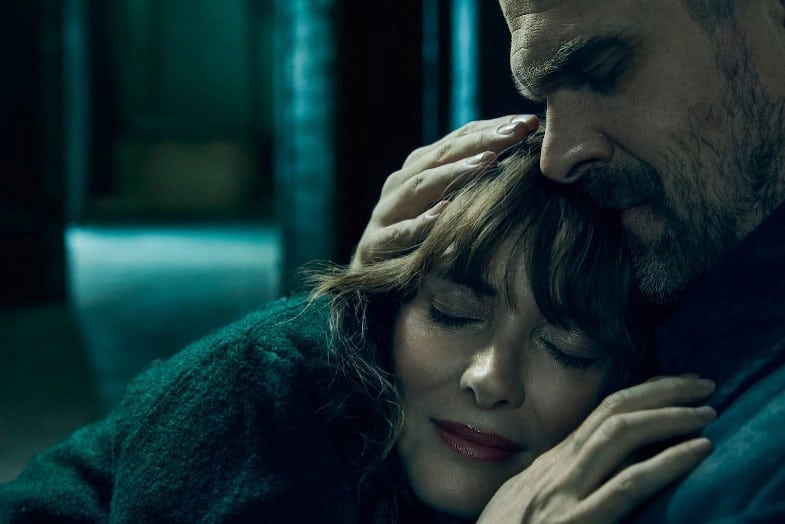 After finally finding one another in Russia, Hopper (David Harbour) and Joyce (Winona Ryder) are making their way back to the United States in the hopes of assisting their children after discovering Demogorgons and a mystery particle mist in the Russian Prison. They make a desperate call to Dr. Owens (Paul Reiser), asking for his assistance in getting back to Hawkins when Yuri (Nikola Djuricko) is unable to get the aircraft up and running in time.
An associate calls them back after seeing that Owens is now busy with the military and informs them that Eleven, played by Millie Bobby Brown, and the Byers boys are on their way back to Hawkins to battle yet another threat from the Upside Down.
Joyce advises that they return to the jail to fight the Demogorgons and destroy the mist in order to keep the hive mind distracted and possibly give the kids an advantage. Despite the fact that they won't make it back in time to help, Joyce makes this suggestion. The prison is in a state of complete anarchy when Hopper, Joyce, and Murray (Brett Gelman) enter. The Demodogs that was believed to be dead after being entombed in the glass tubes have been brought back to life by the particles, and they have successfully eliminated the Russian guards.
However, this doesn't deter Hopper from using himself as bait to lure them into the pit where he and the other prisoners fought a Demogorgon. Just as it seems like Hopper is in way over his head and about to meet the same fate as Bob (Sean Astin), Joyce swoops in and pulls him away. Once they make it to the pit, Murray barbecues the creatures with a flamethrower, and Hopper slices off the Demogorgon's head with a sword.
California Crew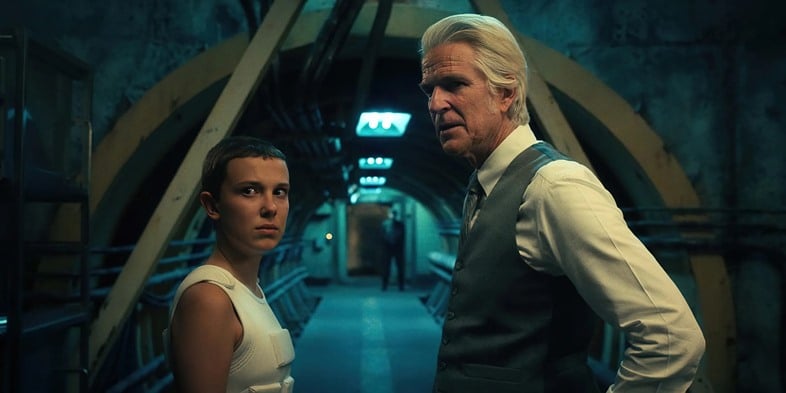 In Episode 8 "Papa", Mike (Finn Wolfhard), Will (Noah Schnapp), Jonathan (Charlie Heaton), and Argyle (Eduardo Franco) find Eleven in the middle of the Nevada desert just in time to help her escape from the military and Dr. Brenner (Matthew Modine). Eleven uses her powers to check in on their friends in Hawkins and discovers that they plan to take on Vecna alone. In the finale "The Piggyback", El realizes that she can still help Max (Sadie Sink) from there if she can find a sensory deprivation tank.
They barter a joint for access to the kitchen of the local Surfer Bros. Pizza, which they are led to by Argyle who does it in an upbeat and energetic manner. They turn the dough freezer into a saltwater tub, and El gets ready to aid Max in his battle against Vecna. El is successful in locating Max and inflicting a damaging blow on Vecna, but her victory is just temporary.
She succumbs to Vecna's superior strength, and he leads them away from Max's secure and happy recollection and into his own lair. After that, Mike reaches out to El, and El uses the love she has for Mike and the rest of her companions to defeat Vecna. Max has a momentary loss of consciousness and passes away before El is able to comprehend that she can, in a sense, bring her back to life.
Hawkins and The Upside Down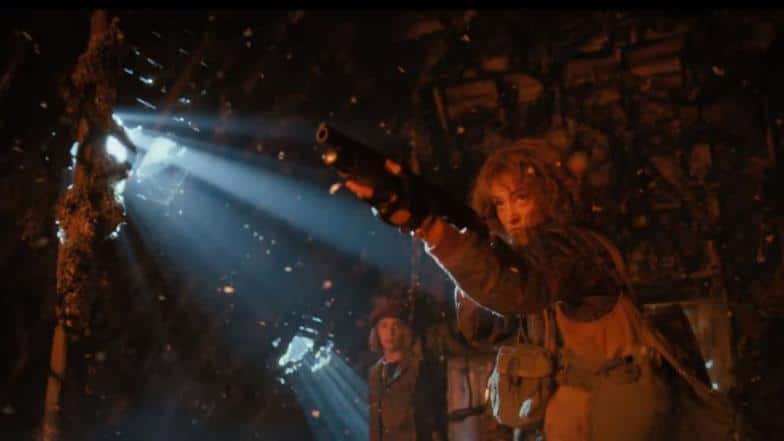 After Vecna exposes his plan for global domination to Nancy (Natalia Dyer), the Hawkins crew determines that it is time to bring the fight to Vecna rather than wait for him to strike again. This decision is made after Vecna confesses his plan to Natalia Dyer. Their strategy is divided into three components. Max, Erica (Priah Ferguson), and Lucas (Caleb McLaughlin) travel to the Creel House in Hawkins in an attempt to entice Vecna to join Max in their mission.
Eddie (Joseph Quinn) and Dustin (Gaten Matarazzo), members of Group Two, travel to the Upside Down in an attempt to distract the Demobats from their pursuit of Vecna. The third group comprised of Nancy, Robin (Maya Hawke), and Steve (Joe Keery), travel to the Upside Down with the intention of eliminating Vecna while his attention is focused on Max. Things get off to a good start but quickly deviate from the path that was laid out for them in the plan. Even though Nancy, Robin, and Steve made it to the Upside Down Creel House, as soon as they arrived, Vecna's vines immediately encircled them and kidnapped them.
It seems that Eddie and Dustin are having a little too much success in diverting the attention of the Demobats. They initiate their escape, as stipulated in the plan, but Eddie makes the decision to stay behind and buy as much time as he can for the others. Dustin attempts to save Eddie by going back through the portal, but it is too late, and Eddie passes away while he is holding him. During the time when Max is under Vecna's hypnotic influence, Jason (Mason Dye) launches an assault on Lucas, and Erica is momentarily held captive by one of his jock companions.
During the course of the struggle, Jason burns Max's "Running Up That Hill" video, rendering it impossible for Lucas to bring her back using that method once she has started flying. El is successful in preventing Vecna from absorbing all of Max's thoughts; however, when she returns to our reality, her body is unable to deal with what she has been through.
As a result of Vecna's attention being diverted by El, Nancy, Robin, and Steve are able to break free from the vines and wound Vecna. Despite the fact that Max does experience a brief moment of death, Vecna's plot is still able to proceed, and more portals are opened to the Upside Down. The power of these rifts shakes the entire town of Hawkins and causes significant damage to a large portion of it.
Is This The End of Hawkins as We Know It?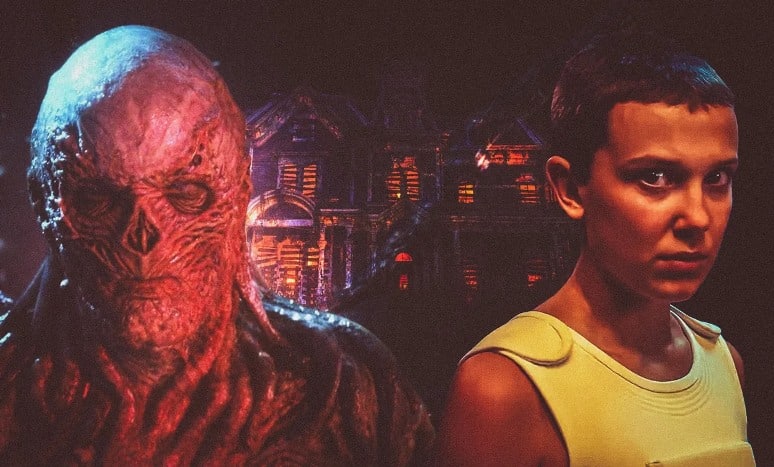 A gathering of nearly all of the survivors takes place in Hawkins two days after the battle with Vecna. Because law enforcement and military personnel are sending residents to the makeshift refuge at the high school, their home is almost unrecognizable at this point. 22 people have been identified as having taken their own lives, while others remain missing and are presumed to have been sucked into the rift just like Jason. The Wheelers' Robin, Nancy, Dustin, and Steve deliver donations to the high school and spend as much time as they can offering whatever assistance they can muster.
In a tender moment, Robin and Vicki, who is played by Amybeth McNulty, make sandwiches together after getting back in touch with one another. When Dustin breaks the news to Eddie's uncle about his passing, the two of them have a touching time together, connecting through the recollection of who Eddie truly was. El pays a visit to Max in the hospital while he is still in a coma following his near-death experience and subsequent revival.
Following that, everyone travels to Hopper's cabin in order to repair it, clean it, and provide El with a place to hide. Jonathan and Nancy are at last given the opportunity to converse with one another, but he still does not disclose to her the fact that he did not submit his college application.
Despite Nancy's reassurances that their relationship is healthy, it appears as though they are still estranged from one another. Will confides in Mike that he is still able to feel Vecna's presence and that he is concerned about Vecna's potential return with a fury. El makes a psychic attempt to communicate with Max but is unable to locate her. She is concerned that Brenner was correct in his assessment that she was not prepared and that she will be unable to bring Max back with her.
After Hopper and Joyce's homecoming, everyone is overjoyed for a minute, but then things start to take a strange turn. Will gets a shiver all the way down his spine just as a threatening storm is brewing above Hawkins. The dust and goo that settles on everything in the Upside Down spread throughout the village and is responsible for the death of the grass and plants in the area around the cottage. It is quite evident that the barrier that once separated our world from the Upside Down has been breached, thereby allowing more of its inhabitants, including its monsters, to start invading our reality.
The Duffer Brothers mentioned the potential of a time jump between Season 4 and Season 5 in an interview with TVLine. They thought it was a realistic option considering the ages of the main cast members. On the other hand, considering the repercussions that the conclusion of Season 4 could have, it is unclear how a time jump could be implemented in this circumstance.
As a result of this finale, it would appear that everyone is required to immediately engage in another battle, and in a separate interview with Collider, the Duffer brothers confirmed that the fifth season will begin right in the middle of the action. Even though we won't know how things turn out for sure until the entirety of Season 5 is shown on our screens, it is abundantly evident that the Hawkins that we used to know and love has most certainly been altered beyond recognition.
Read More Articles: