John Singleton wrote and directed the American coming-of-age drama film Boyz n' the Hood, which was released in 1991. South Central Los Angeles is rife with violence. Several gunshots are depicted with bleeding wounds but little additional gore. It was released on July 2, 1991, in Los Angeles, and on July 12, 1991, in the United States.
Plot: Boyz n the Hood
In the year 1984, Tre Styles lives in Inglewood, California with his mother, Reva Devereaux, who is a single parent. Tre is 10 years old. Reva receives a phone call from Tre's teacher after Tre gets into a fight at school. The instructor tells Reva that despite Tre's intelligence, he is immature and lacks respect. Reva, who is concerned about Tre's future, sends him to live with his father, Furious Styles, in the Crenshaw section of South Central. She does this in the hope that Tre may pick up some valuable lessons from his father.
Tre meets up with his boyhood buddies Darrin "Doughboy" Baker, Doughboy's half-brother Ricky, and their buddy Chris while he is in Crenshaw. Tre is awakened that night by the sound of Furious firing his gun at an intruder. Furious dials the LAPD, and one hour later, two cops show up at the scene. The white cop treats Furious with respect, in contrast to the black officer who is rude to him. The next day, Tre and Furious make their way back, only to find that Doughboy and Chris have been arrested for their theft.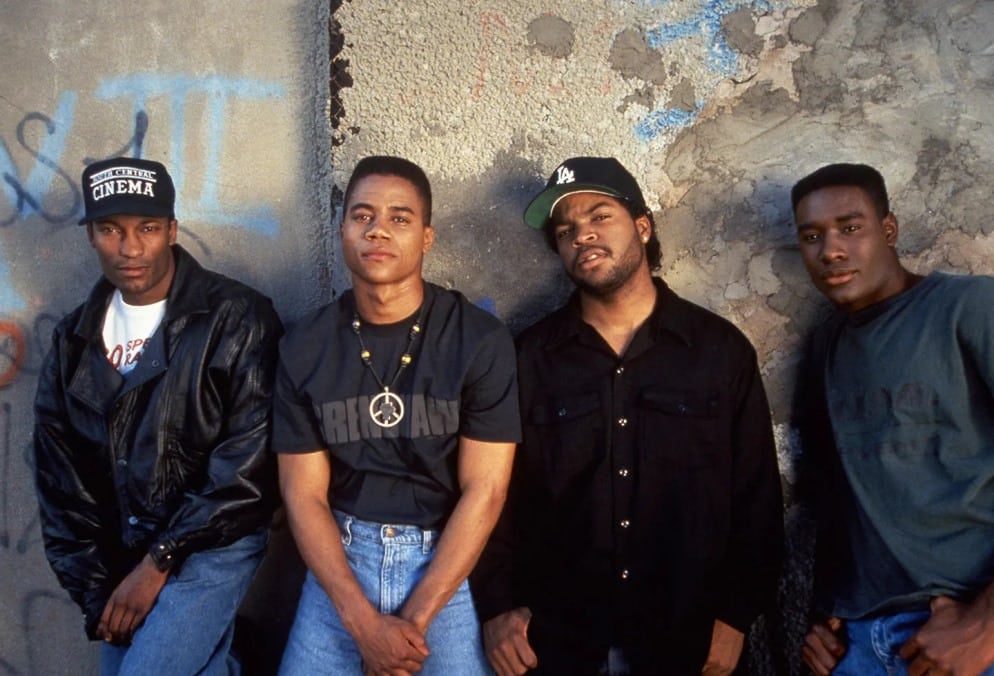 Following his release from jail seven years later, Doughboy, who is now a member of the Crips gang, is honored with a party to celebrate his return home. Chris, who was shot and is now confined to a wheelchair as a result of the incident, "Dookie," and "Monster" are all there at the party. Ricky, a rising star at Crenshaw High School on the running back team, lives in Crenshaw with his mother Brenda, girlfriend Shanice, and the couple's young baby. Tre, meantime, has developed into a mature and responsible adolescent, and he and Brandi, his girlfriend, are planning to attend college together.
The fact that Tre wants to have sex now while Brandi wants to wait until they are married is causing tension in their relationship.
After some time has passed, at a meeting for street racing, a member of the Bloods named Ferris provokes Ricky. An altercation breaks out between the two gangs as a result of Doughboy threatening to use his firearm in defense of Ricky. Tre and Ricky are stopped by an LAPD patrol shortly after they depart; the lead officer, Coffey, is the same black cop that reacted to the crime several years before. Tre is being threatened by Coffey, who is pointing his revolver at his neck. Tre, who is upset, travels to Brandi's residence, where he eventually suffers a nervous breakdown. They engage in sexual activity once she has calmed him down.
The next day, in the afternoon, Ricky gets into a fight with Doughboy, and Brenda takes Ricky's side in the conflict. After that, Brenda gives Ricky an assignment to do, and Tre follows him to the local pharmacy while he's there. After they have left, a letter with Ricky's SAT scores is delivered to his home. After leaving the shop, Ricky and Tre see that Ferris and the Bloods are driving about. In order to get away from them, Ricky and Tre take a circuitous route via the back alleyways. Ricky is killed by Blood in a vehicle that pulls up next to him as he and the other members of his gang go in opposite ways.
Doughboy is heartbroken by Ricky's death and assists Tre in carrying Ricky's body inside the house. Doughboy first became aware that Tre and Ricky were in danger when he noticed the automobile driving around the block many times Brenda and Shanice, who are both inconsolable, throw the burden for their emotional condition on Doughboy, who does his best to console them but is unsuccessful. After some time has passed, Brenda breaks down in tears while looking at Ricky's exam results. She finds out that he got 710, which is high enough to qualify for the scholarship at USC.
The surviving males are furious and swear they will get their revenge on the Bloods. Furious catches Tre in the act of taking his pistol, but Furious is able to talk Tre out of carrying out his intentions for retribution. On the other hand, Brandi and Furious see Tre leaving the house covertly to join Doughboy. Tre eventually comes to the conclusion that his father was correct and goes home after asking to be let out of the vehicle when the gang is driving about the city.
Monster opens fire on the Bloods while they are eating in a quick-service restaurant after being located by Doughboy. One of the Bloods is killed and the other two are injured. As a means of exacting revenge for Ricky's death, Doughboy exits his vehicle and murders both Ferris and the other injured gang member. After returning home later that evening, Furious confronts Tre about exacting revenge for Ricky's murder the two of them go into their own chambers without exchanging any words.
The next morning, Doughboy pays Tre a visit, having realized that Tre has his own reasons for deserting the group. Doughboy is well aware that he will be punished for murdering Ferris, and he is prepared to deal with the repercussions of his criminal lifestyle.
He wonders why the mainstream media in the United States "doesn't know, doesn't show, or doesn't care about what's going on in the ghetto." After Ricky's passing, he claims that he no longer has any brothers, but Tre hugs him and tells him that he "still has one brother left." After that, Doughboy gets up and goes away while emptying his booze bottle.
The wording of the epilogue states that Ricky was laid to rest the next day, that Doughboy was killed two weeks later, and that Tre eventually attends college in Atlanta with Brandi.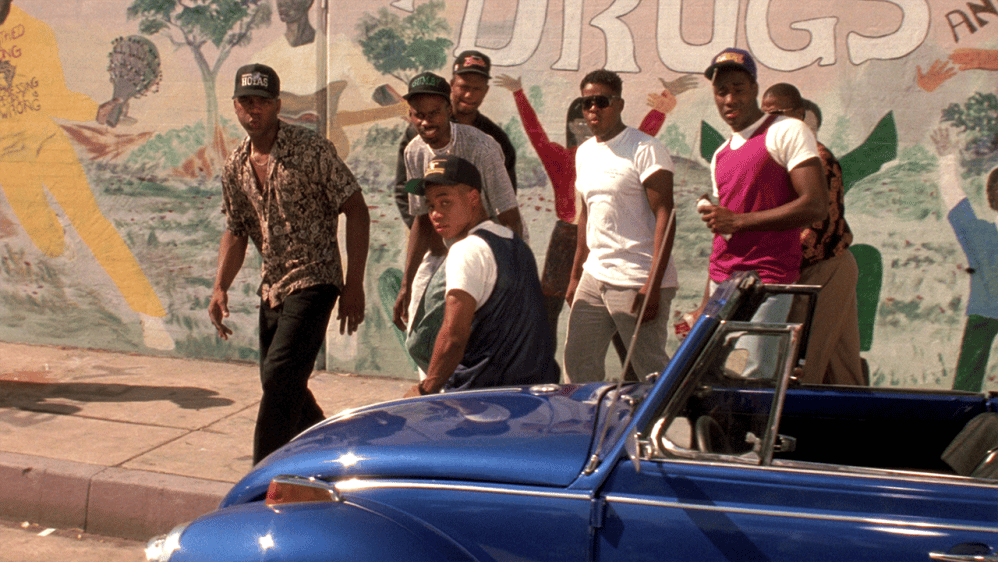 Boyz n the Hood Cast and Characters
Desi Arnez Hines II as Tre
Angela Bassett as Reva Devereaux
Cuba Gooding Jr. as Jason "Tre" Styles III
Baha Jackson as Doughboy
Nia Long as Brandi
Morris Chestnut as Ricky Baker
Ice Cube as Darrin "Doughboy" Baker
Laurence Fishburne as Jason "Furious" Styles Jr
Nicole Brown as Brandi Tyra Ferrell as Brenda Baker
Whitman Mayo as the old man
Donovan McCrary as Ricky
Redge Green as Chris "Little Chris"
John Singleton as the mailman
Lexie Bigham as "Mad Dog"
Dedrick D. Gobert as "Dooky"
Kenneth A. Brown as Chris
Baldwin C. Sykes as "Monster"
Kirk Kinder as Officer Graham
Alysia Rogers as Shanice
Regina King as Shalika
Tracey Lewis-Sinclair as Shaniqua
Raymond Turner as Ferris
Jessie Lawrence Ferguson as Officer Coffey
Lloyd Avery II as Knucklehead
Is Boyz N Da Hood on Netflix?
Starz and Netflix currently have Boyz n the Hood. Vudu, Google Play, Amazon Instant Video, and iTunes stream Boyz n the Hood.
Where can I watch Boyz n the Hood 2022?
Boyz n the Hood is now available to stream online on Hulu.com (Free Trial). Currently, you may watch the drama film Boyz N the Hood, which stars Laurence Fishburne, Ice Cube, and Cuba Gooding. It is accessible to stream. You may watch it on your Roku device by accessing it via The Roku Channel, STARZ, Spectrum TV, Prime Video, Vudu, Redbox, or Apple TV.
Reviews of the film Boyz n the Hood
On the basis of 69 individual reviews and an average rating of 8.40 out of 10, the aggregator website Rotten Tomatoes has given the movie an approval rating of 96%. The website's critical consensus states, "Well-acted and conceptually complex, Boyz n the Hood explores urban America with considerably more depth and compassion than many of the like-minded films its popularity inspired." The movie was given an average score of 76 out of 100 on Meta critic, based on the evaluations of 20 different critics, which suggests that the reviews were "generally positive."
Boyz n the Hood [1991] Official Trailer
The film altered people's conceptions about the Black experience in the United States by focusing on topics such as family, capitalism, poverty, and traumatic experiences. Even though it has been over 30 years since Boyz n the Hood was released in theatres, the film's depiction of racial inequity in the United States continues to have a significant cultural influence even now.