Virgin River is an American drama that is a romance-based streaming TV series. It is produced by Reel World Management and based on a novel of the same name by Robyn Carr. The first season of the series aired on Netflix on December 6, 2019. It renewed for the second season that premiered on 27 November 2020 having 10 episodes. Then Virgin River season 3 came out with 10 episodes. Season 3 Virgin River's release date was 9 July 2021.
It's Virgin River Season 3 Premiere and I have a date with my couch and TV ALL day long! #VirginRiver #DoNotDisturb pic.twitter.com/dJ4Es7JnZG

— HollyBear (@Rocky1916) July 9, 2021
Season 3 depicts that Hope is in a critical situation, no one knows about Preacher, Brady is behind bars and Jack is going to be the father of three babies. Two babies from his wife and one from his girlfriend Mel. Virgin River's season 3 release date was 9 July 2021 and its storyline revolves around Jack and Mel. Jack Sheridan (Martin Henderson) proposes to Melinda Monroe (Alexandra Breckenridge). At the end of Virgin River season 3 Netflix reveals that Mel is pregnant. But there is confusion that whether the Baby is of Jack or his late husband Mark (Daniel Gillies).
Who is the Father of Mel's Baby?
In season 3 a scene showed that Jack and Mel who are the main characters of the series we're watching the California sunrise. Soon Jack said to Mel that she has been brave enough to be open up for him and for that he is forever grateful. He added there is something that he wanted to share. Then he got down on one knee and started to pull out his ring. At this point, Mel stopped Jack and said she had something to tell and then added that she was pregnant.
A shell-shocked Jack said this is good. Moreover, he said this is good, he was all in and he meant it. He said we are going to have a baby and it is amazing news. Whatever it is we will get through it. Mel said to Jack that she doesn't know if Jack is the father. Virgin River season 3 trailer has given in below.
Jack; Father of Three Children in Virgin River Season 3
As there was a doubt that Mel used some frozen embryos from her pregnancy attempt with her late husband Mark. This could not understand till the exact moment arrive and didn't tell Jack about it. But it was confirmed that when did it happen? From a couple of episodes Mel and Mark broke up and Mel must undergo IVF. But when they did not break up, Mel told Jack that she wanted a baby. This wish of Mel horrified Jack. On the other side, Mark has to rev up for the battle of custody for his two children by his wife Charmaine. So Mel assumed that Jack did not want to involve in her child.
This entire situation is depicting that Jack is not only knee-deep for the ugly custody fight but also his girlfriend is expecting a child from her ex-husband. So Jack has three children on the way.
Why is Annette O'Toole not in Virgin River season 3?
The character of Hope that is played by Annette O'Toole was physically absent in the third season. But her presence was felt throughout the Virgin River season 3 when the mayor of the town video chatted with Doc played by Tim Matheson. When this season opened her absence was announced, and it was told that she left the town for visiting her ailing aunt. A worrying moment appeared when Doc came to know the news of the hurricane in the area where Hope was staying. But Doc reached Hope after much struggle and came to know that the hurricane has delayed.
The ending to season 3 left many cliffhangers on fans. But fans' cliffhangers have coupled with the absence of Hope in the Virgin River. They worried about Hope leaving town and the hit Netflix show too. This time fans are more interested in Hope's presence instead to know much about whether season 4 of Virgin River will come up. There is a statement of showrunner Sue Tenney about her presence and to answer will she come back to the show.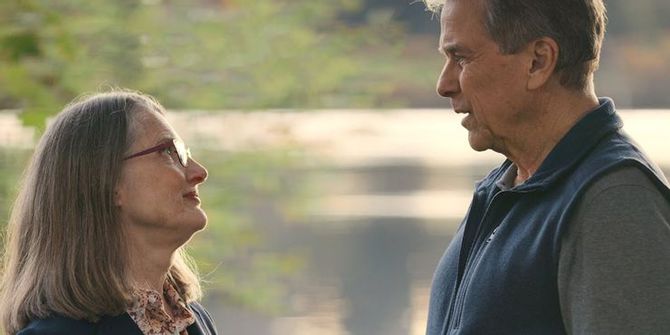 How Covid-19 affected Annette O'Toole in Virgin River Season 3

In season 3 of Virgin River Hope's presence was planned with a dominant role. But due to Covid-19 pandemic conditions writer had to change some courses. The showrunner talked to Us Weekly and said our show did affect by Covid-19 as every other show. He said Annette couldn't come and join us in Vancouver.
Due to the above mention reason the writer did not exclude her from the show. Rather he found a way to show her presence in the show and made her character alive at a safe distance. This solution kept Hope safe at home and showed her in the season through FaceTime and Zoom calls. So the vowed to meet up of Hope and Doc nixed from the season 3 Virgin River.
Sue told to Entertainment Weekly that there are two episodes in the plot that takes us to the point that is a recommitment ceremony. All of us want to see that. He added that there is some drama regarding these two characters (Hope and Doc) that set them on the back-burner. At the same time heightens their commitment to one another.
Hope to leave Virgin River 
Fans will see Hope around season 4 to make up all those things that they missed in Netflix Virgin River season 3. Netflix has not officially taken up the show for the fourth season. But according to a Netflix report, the series has started its filming in late July.
Apart from this fans are more concerned about their cliffhangers regarding Virgin River season 3. They are sure now after the showrunner statement that Hope will come back in one or another way. Sue said they will come back with that real doozy of a cliffhanger that causes her back to the town but with some complications too.