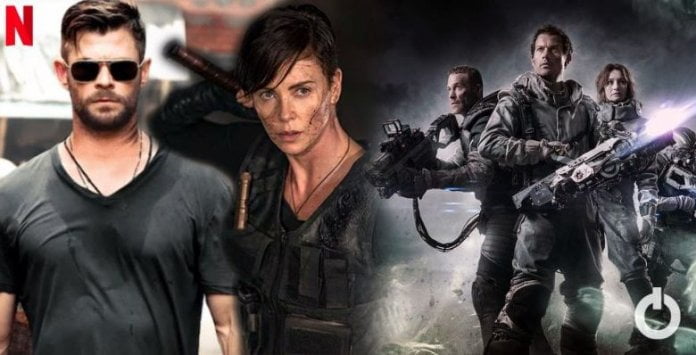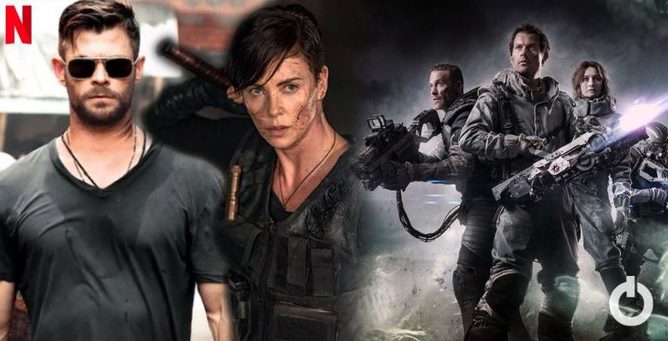 The Netflix is the most used website for movies and series. They produce multiple types of movies like science and fiction, martial arts and action comedies. The biggest Hollywood stars are being featured in these series including Ben Affleck, Will Smith and Donnie Yen. Here is a list of some Netflix Original Movies Action featuring on Netflix. It includes movies from different years which are popular and time-investing.
1- Triple Frontier (2019)
Director: J.C. Chandor
Producers: Charles Roven, Alex Gartner, Andy Horwitz & Neal Dodson
Star Cast: Ben Affleck, Oscar Isaac, Charlie Hunnam, Garrett Hedlund & Pedro Pascal
Release date: March 3, 2019 (New York), March 6, 2019 (U.S.)
It is an American adventure and action movie, released in 2019. It was directed by J.C. Chandor. The stars of the movie performed as a group of solders of U.S. Army Delta Force. They reunited and planned a heist of a crime lord of South America. Undoubtedly, the movie was proved to be one of the best Netflix original movies action. The series was released in cinemas by Netflix and received loads of love from the fans.
2- What happened to Monday (2017)
Director: Tommy Wirkola
Producers: Tommy Wirkola, Raffaella De Laurentiis, Fabrice Gianfermi & Philippe Rousselet
Star cast: Noomi Rapace, Willem Dafoe, Glenn Close, Marwan Kenzari, Christian Rubeck, Pål Sverre Hagen, Tomiwa Edun & Cassie Clare
Release date: August 5, 2017 (Locarno film festival) & August 18, 2017 (U.S.)
What happened to Monday is a science action and fiction series and the heart-winning movie of 2017. It was written by Kerry Williamson and Max Botkin. It was known as Seven Sisters in Japan, Bulgaria, Slovakia, France, Hungary, Spain, Italy, Poland, Portugal & Canada. Families are allowed to have only one child in today's world due to overpopulation, identical septuplets shoudl avoid execution of government and dangerous fights whenever they are investigating about their known ones.
3- The Town (2010)
Directors: Ben Affleck
Producers: Graham King & Basil lwanyk
Star Cast: Casey Affleck, Ben Affleck, Jeremy Renner, Rebecca Hall, Jon Hamm, Chris Cooper, Pete Postlethwaite & Blake Lively
Release Date: September 8, 2010 (Venice International Film Festival), September 17, 2010 (U.S.)
It was more of a thriller-action series not a straight and boring action movie at all. Firstly, It was premiered on 8 September, 2010 at the Film Festival in Venice and then released in U.S. In movie 'The Town', four friends living in Boston robbed a bank just to everything to nosedive from the place. Affleck was turned into a great human and changed his other campanions as well.
4- Train to Busan
Director: Yeon Sang-ho
Producer: Lee Dong-Ha
Star Cast: Gong Yoo, Ma Dong-seok, Jung Yu-mi, Kim Su-an, Kim Eui-sung, Choi Woo-shik & Ahn So-hee
Release Date: 13 May 2016 (Cannes Film Festival), 20 July 2016 (South Korea)
It is one of the most interesting and refreshments ng zombie movies in the recent years. It is directed by Sang-ho-Yeon. The make up effects were just amazing and flawless. People were traveling by the train to the city of Busan and a divorced father named Seok-Woo was struggling to bear her daughter's expenses and protect other swarms and her from the zombies.
5- Snow Piercing (2013)
Directors: Bong Joon-ho
Producers: Lee Tae–Hun, Park Chan-wook, Steven Nam & Jeong Tae-Sung
Star Cast: Chris Evans, Song Kang-ho, Tilda Swinton, Jamie Bell, Octavia Spencer, Ewen Bremner, Ko Asung, John Hurt & Ed Harris
Release Date: 29-July-2013 (Times Square Shopping Mall), 1-August-2013 (South Korea)
Snow Piercing is considered as the one of most unique and interesting movies of the Oscar-winning director Bong Joon Ho. He was well-known for his well-reputed working in his film, Parasite which was such a master piece. Basically, the whole movie took place in a train hiding the last of the world survivors after a failed experiment of climate-change.
6- The Old Guard (2020)
Director: Gina Prince–Bythewood
Producers: David Ellison, Dana Goldberg, Don Granger, Charlize Theron, A.J. Dix, Beth Kono & Marc Evans
Star Cast: Charlize Theron, KiKi Layne, Marwan Kenzari, Luca Marinelli, Harry Melling, Veronica Ngo, Matthias Schoenaerts & Chiwetel Ejiofor
Release Date: 10-July, 2020 (U.S.)
It is an American superhero and a fiction-science movie directed by Gina Prince-Bythewood. It was based on the comic book of the same name written by 'Greg Rucka'. A warrior named 'Andy' has a group of immortal mercenaries were protecting the mortal world for hundreds of years. It was released on 10th of July on Netflix and proved to be the best of the best Netflix Original movies action with full of thriller and and action.
7-Mortal Combat (1995)
Director: Paul Anderson
Producers: Lawrence Kasanoff
Star Cast: Linden Ashby, Cary-Hiroyuki Tagawa, Robin Shou, Bridgette Wilson, Talisa Soto & Christopher Lambert
Release Date: 18-August, 1995
The movie is based on the popular video game of the same name 'Mortal Combat'. Different types fighting actions are performed in the movie. The martial artists went to a mysterious island and compete in the tournament to decide the fate of the world. It was the number one film at the box office of the U.S and spent three weeks in the cinemas winning the hearts of the peoples.
8- Scott Pilgrim vs. the World (2010)
Director: Edgar Wright
Producers: Eric Gitter, Nira Park, Marc Platt & Edgar Wright
Star Cast: Michael Cera, Mary Elizabeth Winstead, Kieran Culkin, Chris Evans, Anna Kendrick, Alison Pill, Brandon Routh & Jason Schwartzm
It is a comedy-thriller movie not a common action movie and co-produced, written and directed by Edgar Wright. It based on a novel series Scott Pilgrim by Bryan Lee O'Malley. It followed Scott Pilgirm which was an aspiring guitarist and never had a trouble to get a girlfriend. He falls for a girl of a name Ramona Flowers. But to be with her, he had to defeat her seven exes who were evil in a war to the death bed.