Christina Ricci is an American actress born on February 12, 1980. known for presenting strange characters with a dark edge, She was the youngest of Sarah and Ralph Ricci's four children when she was born in Santa Monica, California. In the 1960s, her mom worked as a Ford Agency model before moving into the real estate industry. Her father worked various jobs at different places throughout his career, including those as a lawyer, primal scream therapist, gym teacher, and drug counselor. Ricci has said that her surname mixes her Italian, Irish, and Scottish ancestry. Rafael, Dante, and Pia are her three older brothers and sisters. This article will briefly discuss Christina Ricci's movies and TV shows.
Career Beginning
When Ricci was a teen, when her parents divorced, in an interview, she spoke freely about her upbringing, specifically her parents' separation and her tense relationship with her father. When Ricci was eight years old and the lead in a school play, The Twelve Days of Christmas, a small theatre critic spotted her. First, another youngster got cast in the role, but Ricci came up with a plan to get the role for herself: She insulted her competitor to the point that he punched her.
In 1990's Mermaids, where she played Kate, the youngest daughter of Cher's character, Ricci made her big-screen debut. Reviewers recognized the performance by Ricci as some of the best parts of both economically successful movies.
Christina Ricci Transition To Adult Roles
The 1997 Disney remake of "That Darn Cat," which featured Ricci, had a moderate box office performance. With her role as the troubled, sexually curious Wendy Hood in Ang Lee's widely praised art film, The Ice Storm, she moved into "Legitimate adult roles" later that year. Fear and Loathing in Las Vegas, a funny road movie directed by Terry Gilliam, was Ricci's first project with Johnny Depp.
She also had leading roles in three feature films in 1998: Buffalo '66, in which she played the innocent abductee-turned-love affair of Vincent Gallo;
Best Christina Ricci Movies and TV Shows
Honorable Mention: Rae Doole in Black Snake Moan (2006)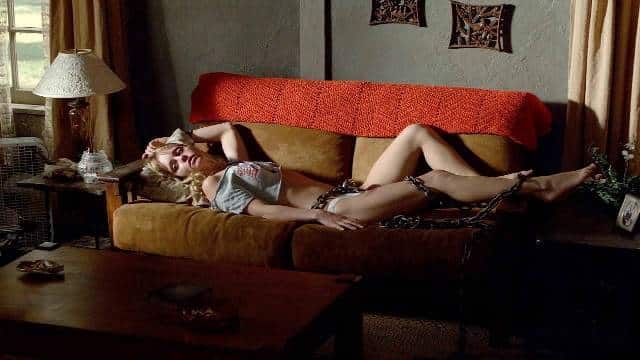 Black Snake Moan is a difficult option. On the one hand, it is an original story that examines the effects of a young woman's childhood sexual assault. Ricci and co-star Samuel L. Jackson deliver some of the most impressive performances of their respective careers. And it was one of the earliest hints that Justin Timberlake could act!
Nonetheless, I recall having conflicting emotions when I saw it in theaters. I enjoyed it, but found the premise shocking. That a male would attempt to "cure" a woman for sexing excessively. She was slurred by everyone without regard for her desires or needs. That the film's marketing (which Ricci criticized) referred to Rae as a "nymphomaniac" and "sex addict." People do not pathologize the fact that males frequently solve their problems through sexual activity.
Nonetheless, Christina Ricci's performance as Rae Doole is without question outstanding. In this scene, Rae confronts Sandy (played by Kim Richards) about the violence she endured.
Wednesday Addams in Addams Family Values (1993)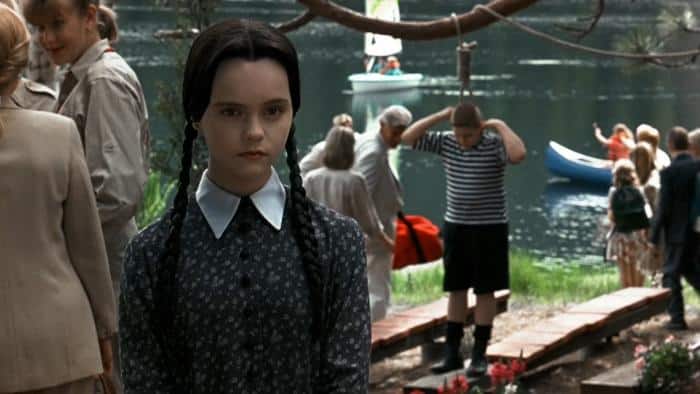 The Addams Family walked in order for the Addams Family Values to operate. This film contains the majority of the elements that make Ricci's portrayal of Wednesday iconic. Wednesday's persistent attempts to assassinate her new infant brother or sister, her hijinks at summer camp (which culminate in the greatest Thanksgiving challenge in modern film), and her interactions with Debbie, her uncle's dubious new companion.
But in all honesty, this film claims the top position because of this one scene:
Since 1990, Christina Ricci has portrayed some of the most distinct and captivating female roles in film and television. Her Yellowjackets role is no exception. When the series returns, we cannot wait to see how Misty and the other Yellowjackets deal with the increasingly bizarre circumstances in their lives.
Now, I am aware that I have omitted some of Ricci's most prominent film roles, including cult-favorite characters and Casper. However, no such catalog can be exhaustive. What are your greatest performances by Christina Ricci? Let us know in the Comment below!
Selby Wall in Monster (2003)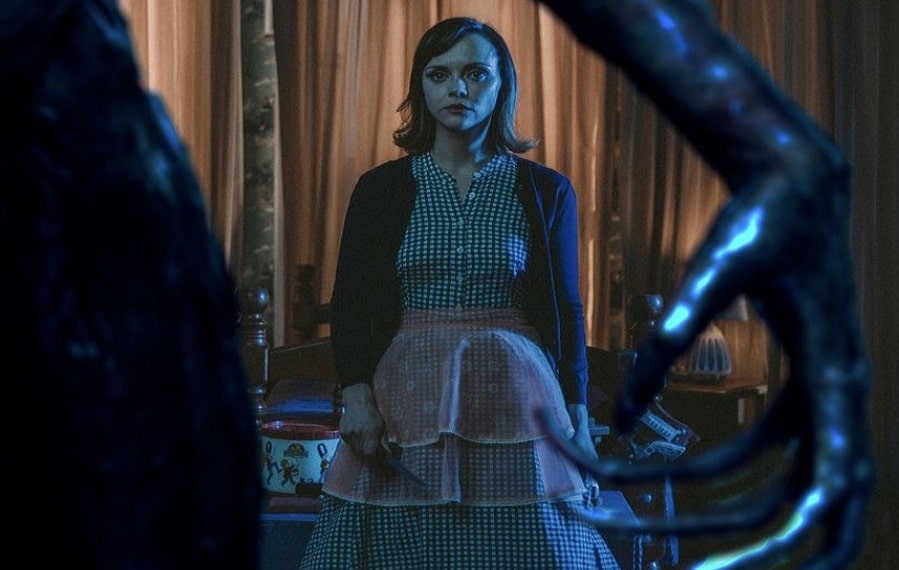 Monster, the first feature-length film by Patty Jenkins, is based on the true tale of Aileen Wuornos, a Florida sex worker who murdered a client in self-defense. Wuornos continued to murder and loot customers in order to provide for herself and her companion.
Selby, portrayed by Ricci, is a fictionalized version of Wuornos' actual fiancée, Tyria Moore. The compelling nature of Wuornos's tale is largely due to her desire to maintain her relationship with Selby. She would perform any task for her.
Charlize Theron received justifiable acclaim and an Oscar for her performance. Even though the film is about Wuornos, it would not have the same impact without Ricci's grounded, apparently effortless performance. She is this film's pulsating heart.
Wednesday Addams in The Addams Family (1991)
You anticipated that this would be near the top, right? In the 1991 film The Addams Family, Christina Ricci gave us our first sample of her definitive interpretation of Wednesday Addams. After dominating every scene in Mermaids, she elevated her performance in this role by several notches. Ricci gave us not only an unforgettable performance, but also a model for portraying Wednesday Addams.
Roberta Martin in Now and Then (1995)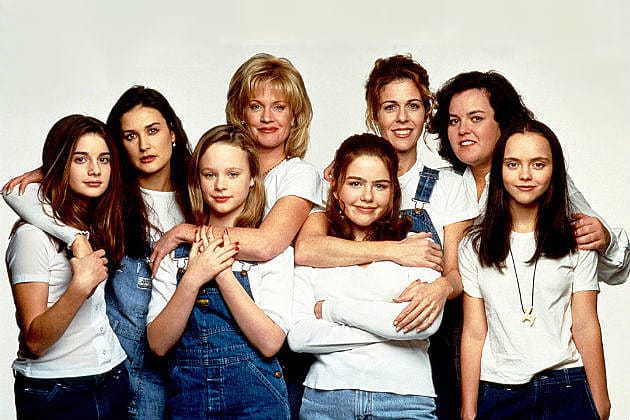 She is examining something with skepticism while holding a Coke container in one hand and a closed fist in the other. Her long hair is divided down the middle and she is wearing a colorful, sleeveless blouse. She is seated in a diner booth, and the wallpaper behind her is an extremely vibrant yellow-orange floral pattern.
Now and Then is a humorous, charming coming-of-age film led by women. It was the first time that Ricci and Gaby Hoffmann worked together, and it also features fellow '90s adolescent icon Thora Birch.
Now and Then is about four female friends: Roberta (Rosie O'Donnell), Samantha (Demi Moore), Tina (Melanie Griffith), and Chrissy. (Rita Wilson). In 1991, at Chrissy's baby celebration in their community, the women reminisce about a formative summer.
The scene then flashes back to 1970, where the characters relive that summer as 12-year-olds. Ricci portrays Roberta, Hoffmann Samantha, Birch Teeny, and the late Ashleigh Aston Moore portrays Chrissy. Each of the females is undergoing significant transformations.
As the group's tomboy, Roberta, Ricci delivers an outstanding and nuanced performance. Her mother passed away when she was four years old, and she lives with only her father and siblings. She is more humiliated by her expanding breasts than by any other aspect of her appearance. Then she begins to like a male, and everything naturally changes.
If you're feeling nostalgic for the 1990s or 1970s, you should watch Now and Then.
Val in 200 Cigarettes (1999)
They don't make films like 200 Cigarettes anymore: films that follow a group of interconnected individuals as they investigate friendship, romantic relationships, and themselves over the course of one night.
The 1981 New Year's Eve setting of 200 Cigarettes in New York City follows various characters as they attempt to get to Monica's New Year's Eve celebration.
Ricci portrays Val, the cousin of Monica from Ronkonkoma. Val and her companion Stephie (Gaby Hoffmann) are disoriented in "Alphabet City" while attempting to get to Monica's party. (a sketchy area in the 1980s). They stumble into an anarchist club where they are asked to deliver narcotics.
Val is the warrior, whereas Stephie is anxious/nervous. Both actresses are incredibly entertaining to watch, and their "lawnguyland" dialects are quite amusing. Check it out the next time you're in the mood for a lighthearted comedy.
Romaine Patterson in The Laramie Project (2002)
It is a close-up of her visage, which appears worried. She has a small star garland in her light-brown, short hair. There are irate demonstrators in the background.
Matthew Shepard, age 21, was viciously assaulted and left for dead in October 1998 because he was homosexual. After six days, he perished from significant cerebral injuries.
Together with members of his theater company, the playwright Moisés Kaufman traveled to Laramie, Wyoming, where the incident transpired. His 2000 play The Laramie Project was inspired by interviews with Laramie residents. Later, Kaufman adapted the play into a 2002 HBO film starring an all-star cast, which included Christina Ricci.
Ricci portrays Romaine Patterson, a lesbian companion of Shepard whose activism was inspired by his assassination. Patterson is best known for her "Angel Action," in which she led a group of individuals donning enormous angel wings to the courthouse where Shepard's attackers were on trial. Fred Phelps and members of the Westboro Baptist congregation were demonstrating against homosexuality.
Patterson's group stood in front of the Westboro Church group to obscure their vile placards with their angel wings. This event was portrayed in both the drama and the movie.
Although the role was one of the film's lesser ones, Ricci gave a gorgeous, grounded performance.
Zelda Sayre Fitzgerald in Z: The Beginning of Everything (2017)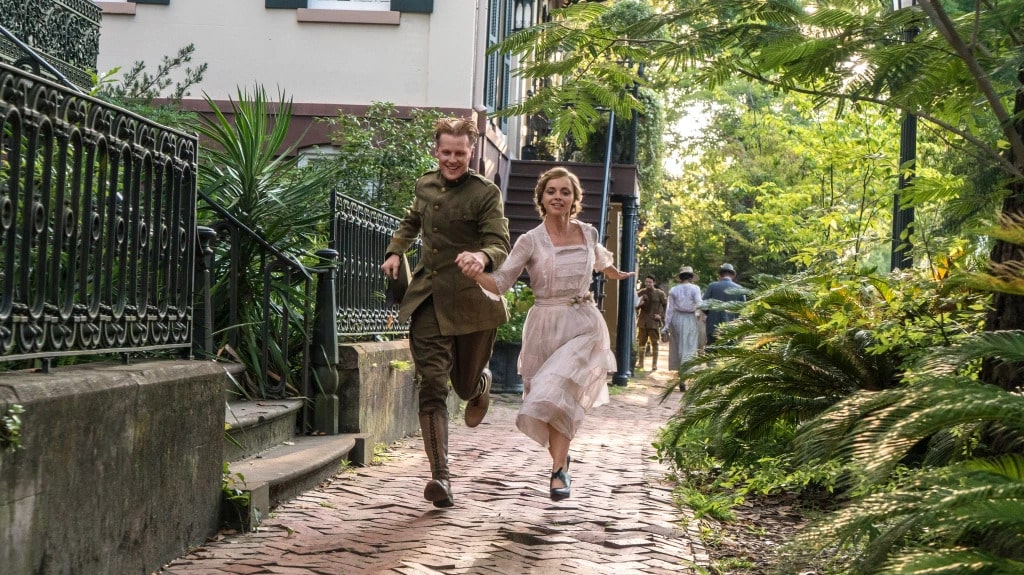 Zelda Fitzgerald (Christina Ricci) gazes into a mirror. She is holding a cigarette holder.
In the short-lived Amazon series Z: The Beginning of Everything, Ricci played author and bohemian icon Zelda Sayre Fitzgerald. The series depicts a fictionalized version of Zelda and her renowned author husband, F. Scott, as they navigate their marriage through the turbulence of his burgeoning career success and her escalating "It Girl" status.
Ricci's Southern dialect is admittedly a bit off, but her performance is sophisticated, and she possesses the necessary bravado to bring to life this legendary woman. The performance itself was entertaining and extremely elegant. Sadly, it endured only one season. If you have not yet seen it, you should!
Kate Flax in Mermaids (1990)
She is grinning as she stands in a bedroom with a vanity table covered in perfume bottles in the background. Her light brown hair is styled in a chin-length bob with fringe, and she is wearing pajamas with floral patterns underneath a grey and white robe.
Based on the same-titled coming-of-age novel, Mermaids is a classic for many Xennial women. Cher portrays Rachel Flax, a single mother of two who relocates to a new city after every failed relationship. Winona Ryder, an icon of Generation X, portrays Charlotte, her anxious 15-year-old daughter, who is humiliated by her mother's free-spiritedness and preoccupied with Catholicism (which her Jewish mother disapproves of).
Christina Ricci portrays Charlotte's nine-year-old half-sister Kate in her film debut. Kate is an enthusiastic swimmer and the most lovable human being imaginable.
After this film, it makes logical that her career took off. Young Ricci dominates every scene she's in with her charisma, natural "presence," and impeccable comedic timing. In addition, she makes pumpkins appear to be fashionable accessories:
Angel of Death in Moby's "Natural Blues" music video (1999)
In the "Natural Blues" music video, the Angel of Death (Christina Ricci) carries an elderly man (Moby) on her shoulders.
In the music video for "Natural Blues" by Moby, director David LaChapelle presents a more ethereal aspect of Christina Ricci.
Moby portrays an elderly individual in a convalescent facility at the conclusion of his existence. As he flicks through a photo album, his recollections begin to play on the television. He becomes captivated by the sight of his youthful self and his first love. (played by Fairuza Balk).
As he observes a decorative angel perched atop the television, the angel transforms into Christina Ricci. Her long, dark hair cascades over her shoulders, and her round, cherubic face is illuminated. The Ricci-angel transports Old Moby to the next world.
Honestly, I wouldn't be upset if an apparition resembling Christina Ricci led me to the afterlife.
Marilyn Thornhill in Wednesday (2022-present)
We can see her from the shoulders up, and she is grinning widely. She has red, shoulder-length hair with fringe, blue cat-eye spectacles, and a grayish top.
Wednesday's first season on Netflix was entertaining, but not without faults. Still, it is an excellent showcase for Jenna Ortega's prodigious talent, and it gave those of us who grew up with Ricci's rendition of Wednesday Addams something to squeal about.
Ricci's casting as Nevermore Academy teacher of botanical sciences Marilyn Thornhill was an intriguing choice. She is the only "normal" student at this institution for dissidents with exceptional abilities. Ms. Thornhill is as upbeat as Wednesday Addams is glum, and it was interesting to see Ricci portray this contrast. However, Ricci's roles are rarely so straightforward, and Ms. Thornhill is ultimately revealed to be Wednesday's primary antagonist. She is essentially the antithesis of Wednesday: a northerner intent to exterminate dissidents as her malevolent ancestor desired.
Born To Be A Star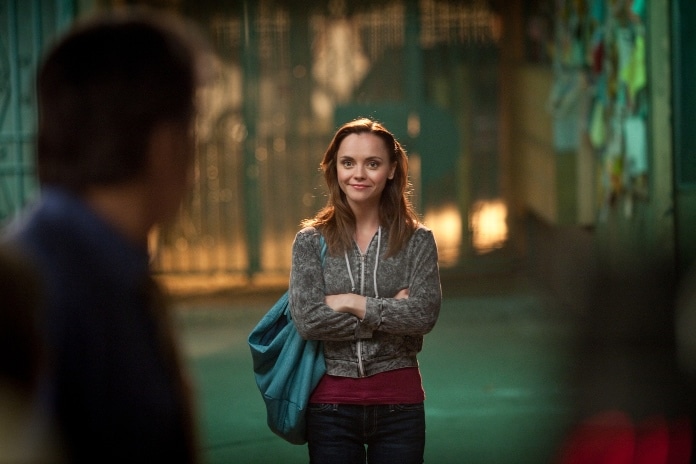 It's a TV show. In Adam Sandler's comedy Bucky Larson: Born to Be a Star, Ricci starred in a role of a kind waitress. As Andrew Barker wrote for Variety, it was "One of the most stunningly unfunny movies of this or any previous year," however, he complimented Ricci for giving her role "More than it deserves."
Lizzie Borden Took An Ax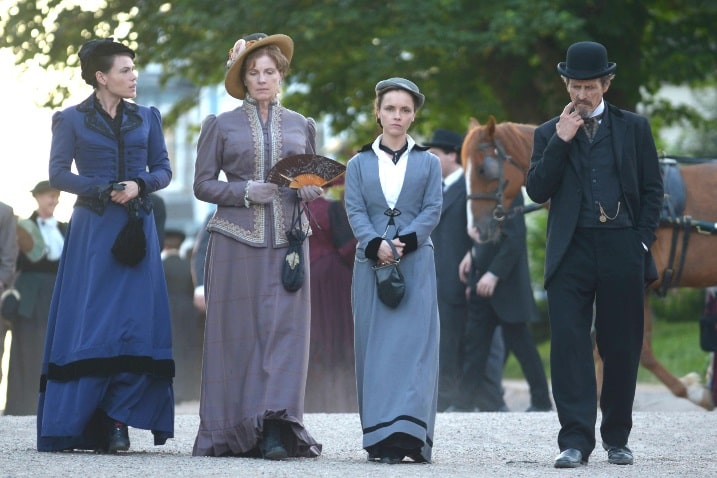 Ricci started the role of Lizzie Borden in the Lifetime movie Lizzie Borden Took an Ax in 2014. The movie was based on the real-life account of Borden, who was investigated and found not guilty of killing her father and stepmother in 1892. In 2015, Ricci returned to the role for the eight-part television series The Lizzie Borden Chronicles.
Comments for the latter were generally good; Jane Borden of Vanity Fair praised it as "Playful, wicked brain candy" and said that Ricci "was meant to play [a] 19th-century axe killer. "As according to Keith Uhlich of The Hollywood Reporter, Ricci and co-star Clea DuVall had "a delightful rapport not too far off from Bette Davis and Joan Crawford," while Neil Genzlinger of The New York Times called her "Gleeful and cutthroat."
Mothers And Daughters
As a part of an entire cast that included Sharon Stone, Susan Sarandon, Selma Blair, Mira Sorvino, and Courteney Cox in the independent drama Mothers and Daughters in 2016, Ricci featured a woman who gets a life-changing discovery from the woman she assumed was her sister.
list of Christina Ricci Movies and TV Shows
| | |
| --- | --- |
| The Addams Family | 1991 |
| Wednesday | 2022 |
| Addams Family Values | 1993 |
| Casper | 1995 |
| Yellowjackets | Since 2021 |
| Black Snake Moan | 2006 |
| Sleepy Hollow | 1999 |
| Buffalo '66 | 1998 |
| Monster | 2003 |
| Penelope | 2006 |
| After.Life | 2009 |
| Speed Racer | 2008 |
| Now and Then | 1995 |
| Mermaids | 1990 |
| Prozac Nation | 2001 |
| Monstrous | 2022 |
| The Ice Storm | 1997 |
| Cursed | 2004 |
| Lizzie Borden Took an Ax | 2014 |
| Grey's Anatomy | Since 2005 |
| Fear and Loathing in Las Vegas | 1998 |
| Gold Diggers: The Secret of Bear Mountain | 1995 |
| The Matrix Resurrections | 2021 |
| Bel Ami | 2012 |
| The Smurfs 2 | 2013 |
| Z: The Beginning of Everything | 2015 – 2017 |
| Pan Am | 2011 – 2012 |
| The Opposite of Sex | 1998 |
| Malcolm in the Middle | 2000 – 2006 |
| The Gathering | 2002 |
| Escaping The Madhouse: The Nellie Bly Story | 2019 |
| Bucky Larson: Born to Be a Star | 2011 |
| Distorted | 2018 |
| The Man Who Cried | 2000 |
| Pumpkin | 2002 |
| The Smurfs | 2011 |
| Anything Else | 2003 |
| Alpha and Omega | 2010 |
| That Darn Cat | 1997 |
| The Lizzie Borden Chronicles | 2015 |
| 10 Things We Should Do Before We Break Up | 2020 |
| Faraway Eyes | 2020 |
| Ally McBeal | 1997 – 2002 |
| 200 Cigarettes | 1999 |
| The Hero of Color City | 2014 |
| Bless the Child | 2000 |
| Around the Block | 2013 |
| Small Soldiers | 1998 |
| Pecker | 1998 |
| Percy | 2020 |
| Bastard Out of Carolina | 1996 |