Medium length haircuts for women are actually one of the best hairstyle options that women can choose. This is because they offer you a variety of styling options, and therefore you get the opportunity to try something new each day or for every occasion. As a woman, you are only required to understand the hairstyle that works best with your face shape as well as your hair texture.
As long as your hairdresser is creative enough, you can always come up with different styling options. Choose a hairstyle that matches your routine based on the amount of care and maintenance required to maintain the style's initial shape and neatness. Check out some of the best short, medium length haircuts for women here.
Medium Cut For Round Face
Just as the name suggests, this haircut idea is perfect for women with round faces. A medium haircut with bangs completely makes your round face appear longer and slim. This gives your face a more mature and mature lady feel, unlike round faces, which are mostly associated with child appearance.
Collarbone Messy Inverted Cut
This medium length is defined mainly by the messy cut on the collarbone. To spice up things, this idea is combined with a partial balayage. The appearance of this haircut is like an angled bob which gives you the best unique look.
Ombre Shag With A Middle Part
Shag is a timeless haircut that will always be in fashion. This idea of medium haircuts for women is very beautiful and gives your hair a fuller volume and dimension.
You can twist this style a little bit by using the ombre technique to make it unique. Use the best hair products to give your medium length hair a touch of extra volume.
Medium Haircut For Blondes
If you are naturally blonde or love the idea of dying your hair blonde, this is a good idea for your medium length haircuts.
Most pretty blonde hairstyles are usually when the hair is shoulder length, which qualifies them as medium length hairstyles. When the hair is longer, it may look edgier and short hair is usually spiky, which a characteristic you may be trying to avoid is.
Medium Length Hair With Curtain Bangs
This is one of the simplest medium length hairstyles. You are only required to cut your hair to shoulder length and spice it up with cute curtain bangs.
This hairstyle is suitable for casual and formal occasions, and you can add twists by adding highlights of your favorite shades.
Choppy Wavy Lob
This is a good idea if you are looking for something fun but not crazy. The hair is cut shoulder length but with some choppy levels. It can also be described as an elongated bob and is one of the haircuts that can enhance your natural hair texture.
You can spice up things by combining them with highlights and get some waves for a full and voluminous appearance. Spicy up things by leaving the hair messy or giving it some shaggy waves for a more trending appearance.
Straight Blonde Lob
This is the perfect haircut if you want to show grace and elegance. The haircut will make you appear effortlessly chic, and you can wear it for both formal and casual occasions. The straight lob also allows you to explore different hairdos depending on different moods for different days.
Voluminous Curly Messy Shag
This is a good idea if you don't like the concept of wearing your hair sleek, especially of your hair is naturally thin and has a fine texture.
The parted bob spices up the look, and the fact that the hair is best left messy makes it an easy-maintenance hairstyle. The messy curls make the hairstyle one of the women's coolest medium-length haircuts.
You can let the hair flow over the face, and this will definitely turn faces if you love getting a spotlight on yourself.
Textured Blonde Lob With Shadowed Roots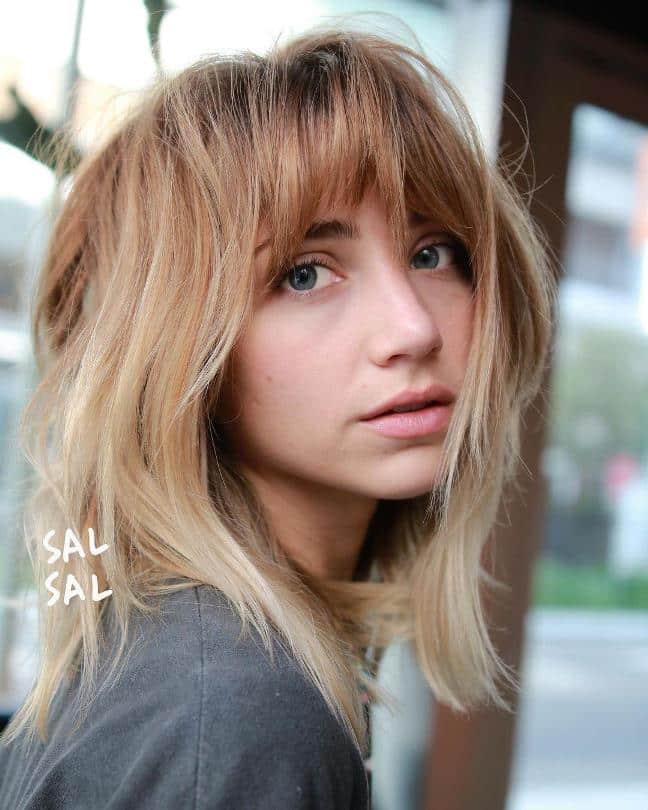 For this idea, the lob goes to the top, making this haircut one of the perfect for the modern woman. If you have dyed your hair blonde, you can have the roots in a different color so that you can be able to monitor your hair growth.