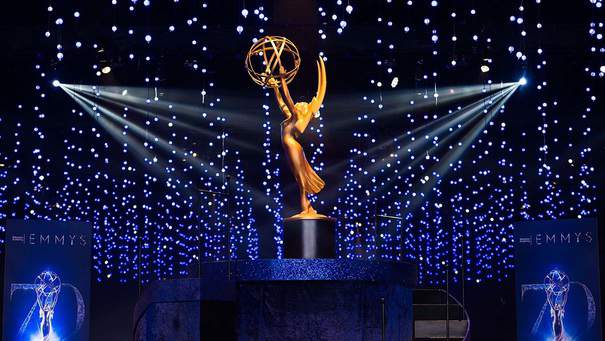 Emmy Awards 2020
The 72nd Emmy Awards 2020 will be the biggest award show of the year. Although; the Television Academy has made this year more interesting and filled a lot of events and shows. Most importantly; Nicole Byer hosted Creative Arts Emmys. It continued for nights and leads the Sunday's prime time ceremony which will be hosted by Jimmy Kimmel. In Addition; the show will be broadcasted live from L.A's Staples Centre.
The Creative Arts Emmys will be stream from Monday to Thursday night on Emmys.com. The final live ceremony will be on your screens on Saturday, 19 September, at 8 P.M on FXX channel. The schedule of the show is as Scrfollows:
Sept. 14, Monday: Reality and Non-Fiction
Sept. 15, Tuesday: Variety
Sept. 16, Wednesday: Scripted Night One
Sept.17, Thursday: Scripted Night Two
Sept. 18, Saturday: An eclectic mix of awards for all genres
How and where to watch The Emmy Awards 2020:
So; on Night 1, HBO's documentary The Apollo won Non-Fiction special or Outstanding Documentary. But Netflix chooses five winners including the Outstanding Structured Reality Program and others. On the other hand; Emmy Nominee Byer and other hosts will host all five nights in the Creative Arts Cycle. It will run on the screen on Thursday with other digital ceremonies which were Emmy's first show. Moreover; a 90 minutes ceremony will be held live on Saturday night on FXX.
Nominations
However; the nominations for the award were announced on 28 July. It was by Leslie Jones, Josh Gar, Tatiana Maslany, and Laverne Cox.
Night 2 winners outstanding variety special (Live)
Further; NBC's Saturday Night Live won its fourth consecutive Emmy for Outstanding Variety Sketch Series. Above all; SNL's Don Roy King won his fourth consecutive Emmy for Directing for a Variety Series. However; Apple TV+'s Carpool Karaoke: The Series also won its fourth consecutive Emmy for Short Form Variety Series.
Outstanding variety sketch series
Live In Front Of A Studio Audience: "All In The Family" And "Good Times"
So; ABC – Sony Pictures Television, Act III Productions, Kimmelot, D'Arconville, Gary Sanchez Productions, Simpson Street
Technical direction, camerawork, video control for a series
Saturday Night Live
NBC – SNL Studios in association with Universal Television and Broadway Video
The Oscars
ABC – The Academy of Motion Picture Arts and Sciences
While Jason Sherwood, Production Designer, and Alana Billingsley, Art Director
Production design for a variety and reality series
Saturday Night Live
Host: Eddie Murphy – Host: John Mulaney
NBC – SNL Studios in association with Universal Television and Broadway Video. So; Eugene Lee, Akira Yoshimura, Keith Ian Raywood, Joseph DeTullio for Production Designer
Technical direction, camerawork, video control for a special:
Last Week Tonight With John Oliver • Episode 629
HBO – HBO Entertainment in association with Sixteen String Jack Productions and Avalon Television
Dave Saretsky, Technical Director
Augie Yuson, Video Control
Dante Pagano, Camera
John Harrison, Camera
Rob Bolton, Camera (Jib)
Tim Quigley, Camera
Phil Salento, Camera
Rich Freedman, Camera (Jib)
Joe Debonis, Camera (Steadi)
Michael Hauer, Steadicam
Lucan Owen, B Cam
Scotty Buckler, C Cam
Russell Swanson, Camera
Live In Front Of A Studio Audience: "All In The Family" And "Good Times"
ABC – Sony Pictures Television, Act III Productions, Kimmelot, D'Arconville, Gary Sanchez Productions, Simpson Street
Eric Becker, Technical Director
Kevin Faust, Video Control
While Ron Hirshman, Ed Horton, Helena Jackson, Jon Pure, Jimmy Velarde, Allen Merriweather, Greg Grouwinkel, Randy Gomez Sr., Andrew Ansnick for Camera