Jennifer Aniston and Adam Sandler lead the ensemble of the sequel action comedy Murder Mystery 2 on Netflix.
Murder Mystery 2 is a forthcoming action comedy mystery film directed by Jeremy Garelick and written by James Vanderbilt. The sequel will premiere on Netflix in March 2023, marking the third collaboration between Aniston and Sandler after the romantic comedy Just Go with It and the original Murder Mystery.
As a writer, Garelick contributed to the previous Jennifer Aniston film The Break-Up, as well as the renowned comedies The Hangover and The Wedding Ringer. The premiere weekend of the first Murder Mystery was viewed by approximately 30.8 million accounts, which was at the time the greatest weekend performance for a Netflix film debut; Red Notice has since surpassed this record.  Nick, a New York City police officer, and Audrey, his wife, embark on a romantic vacation in Italy, only to be accused of the murder of a tycoon. Nick and Audrey are drawn into a new conspiracy in the sequel when their companion is abducted at his own Hawaii nuptials.
In an effort to save their companion, the duo travels to Paris and becomes embroiled in an international investigation.
Who is in the cast of Murder Mystery 2?
Adam Sandler portrays Nick Splitz, a former police officer who now works as a private investigator alongside his wife. According to The Richest, Sandler is one of the wealthiest actors in the world with a net worth of $420 million, the same as Will Smith. The actor, who has appeared in such popular comedies as Happy Gilmore, Cick, and Pixels, has signed a four-film, $250 million deal with Netflix.
Jennifer Aniston portrays Audrey, Nick's wife, and the two venture on their most recent investigation. She is best recognized for her role as Rachel Green on the '90s sitcom Friends. She has also starred in a number of successful comedies, such as Along Came Polly, The Bounty Hunter, Bruce Almighty, and Horrible Bosses. Similar to Sandler, she is one of the wealthiest individuals in the film industry and the wealthiest actress of all time, with an estimated net worth between $300 and $330 million.
Other members of the Murder Mystery cast include:
Enrique Arce as Francisco
Adeel Akhtar as The Maharajah
Mélanie Laurent as Claudette
Jillian Bell as Susan
John Kani as Colonel Ulenga
Jodie Turner-Smith as Countess Sekou
Kuhoo Verma as Saira
Dany Boon as Inspector Delacroix
Zurin Villanueva as Imani
Annie Mumolo as Mrs. Silverfox
Mark Strong as Miller
Tony Goldwyn as Silverfox
Where did Murder Mystery 2 take place?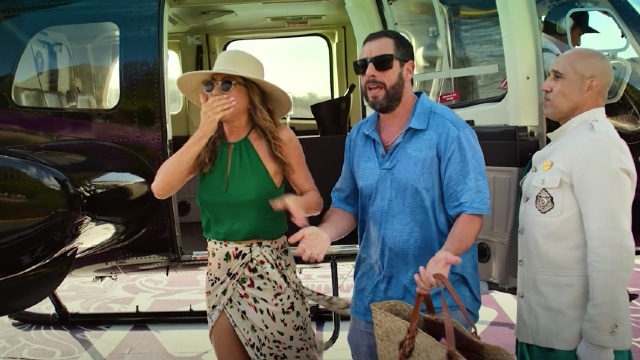 Murder Mystery 2 production commenced in Honolulu, Hawaii, in January 2022. Additionally, filming took place in Paris, France, concluding in April 2022.
Is there a trailer for Murder Mystery 2?
Yes, and it can be viewed right here:
when is murder mystery 2 on Netflix
Murder Mystery 2 will premiere on Netflix on March 31. The first film to be published in 2019 is presently ranked second on Netflix's list of the top 10 films available to stream.
When is Murder Mystery 2 coming out on Netflix in the UK?
Netflix has verified that Murder Mystery 2 will be released in the United Kingdom on March 31. The duration is 90 minutes.