David Crosby, a two-time inductee into the Rock and Roll Hall of Fame who sang for The Byrds and co-founded a supergroup with Stephen Stills, Graham Nash, and Neil Young, has passed away. He was 81. Today, his wife Jan revealed the news.
"Our dear David (Croz) Crosby has died away after a lengthy illness," she stated in a statement. "He was accompanied by his wife and soulmate Jan, as well as his son Django. His humanism and compassionate spirit will continue to lead and inspire us even if he is no longer with us. His great songs will continue to perpetuate his legacy. Peace, love, and peace to all those who knew and were affected by David. We shall really miss him. We respectfully and humbly request privacy while we mourn and attempt to cope with our tremendous loss. Thank you for your prayers and support.
Crosby came to recognition as a vocalist and guitarist with the prominent Los Angeles-based folk-rock band The Byrds, who fused a revolutionary guitar sound with beautiful songs. From 1964 until 1967, he was a member of the group, contributing vocals to several of its chart-topping successes, including "Mr. Tambourine Man" and "Turn! Turn! Turn!" Those were also the names of The Byrds' first two albums, with Mr. Tambourine Man hitting the top ten in the United States.
The Byrds, which also included Gene Clark, Roger McGuinn, and Chris Hillman, were a major influence on the burgeoning L.A. folk-rock scene, which helped spawn the country-rock genre exemplified by the Laurel Canyon acts of the late 1960s and early 1970s, as well as The Eagles and The Flying Burrito Brothers, which also featured Hillman.
Crosby was dismissed from the band due to his allegedly irritating nature. At the renowned Monterey Pop Festival, tensions reached a boiling point when he made lengthy between-song rants during The Byrds' performance and subsequently stood in for Young during rival L.A. band Buffalo Springfield's set.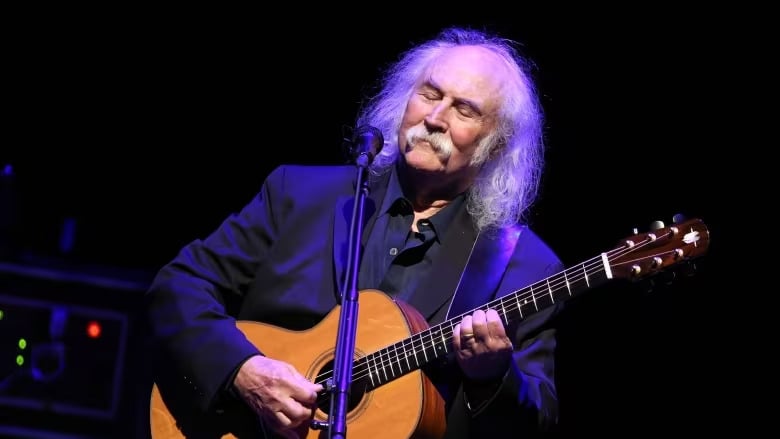 With his distinctive long hair, bushy moustache, and unconventional ideas, Crosby would enjoy far more commercial success with his next band.
Crosby joined up with fellow Laurel Canyon residents Stills and Nash to create Crosby, Stills & Nash, whose 1969 self-titled first album reached the top ten. The quadruple-platinum album includes "Suite: Judy Blue Eyes" and "Marrakesh Express," both of which reached the Top 30 of the Billboard Hot 100 and were nominated for Album of the Year at the Grammys. The band was named Best New Artist. It would be Crosby's only victory among 10 nominations for his career, which began with Best New Artist with The Byrds in 1965.
Joined in 1970 by Canada expat and Buffalo Springfield graduate Young, the band would go on to earn three consecutive No. 1 albums: Déjà Vu (1970), 4-Way Street (1971), and So Far (1974). The debut album was nominated for a Grammy for album of the year and remains one of rock's most cherished LPs, spawning such stone classics as "Teach Your Children," "Ohio," "Carry On," and "Our House," as well as a cover of Joni Mitchell's "Woodstock." Mitchell would open for the band on their first concert tour.
However, intraband interactions were often tense, and the band eventually disbanded, though its members would reunite decades later in different permutations.
In 1971, Crosby released his first solo album, If Only I Could Remember My Name, which peaked at No. 12 on the Billboard 200, while the members of CSN&Y pursued separate careers. Graham Nash and David Crosby had two Top 10 albums as Graham Nash/David Crosby in 1972 and 1975, with 1976's Whistling Down the Wire reaching the Top 30.
1977's CSN by Crosby, Stills and Nash lasted four weeks at No. 2 and produced the group's first Top 10 song, "Just a Song Before I Go." It also achieved quadruple platinum certification. Their subsequent album, 1981's Replay, flopped, but 1982's Daylight Again propelled them back into the public eye, peaking at No. 8 and producing their second Top 10 song, "Wasted on the Way." Stills' second hit, "Southern Cross," had a beautiful singing and melody and reached the top 20.
The quartet released Allies in 1983, but Crosby suffered a setback in the mid-1980s. In 1985, he served nine months in a Texas state jail after being convicted of various drug and weapon-related offences. In the same year, he was again arrested for DUI, hit-and-run, and other offences. They were among his many encounters with the authorities over the years.
However, CSN&Y re-emerged in 1988 with American Dream, which catapulted them back to prominence on rock radio. The album's title track reached the Top 5 on Billboard's Mainstream Rock chart, while the album's second single, "Got It Made," topped the list for two weeks.
CSN released three albums between 1990 and 1998, and Young rejoined them for 1999's Looking Forward, while the band's major members continued to reconvene in the decades that followed. In support of Young's solo album Living with War, the four musicians participated in the Freedom of Speech tour in 2006. The highly inflammatory record and concerts before the U.S. midterm elections and the notoriously left-leaning bandmates amplified the political content. A visit to Orange County, California, was met with disdain from many in the audience.
Crosby, who was born in Los Angeles on August 14, 1941, played up his contrarian image and often irritated bandmates, friends, record executives, and others. Crosby said on tape in the 2018 documentary Echo in the Canyon that he was sacked from The Byrds because he is "a jerk."
In spite of this, Crosby was the inaugural winner of the MusiCares Person of the Year award in 1991. Since its inception, the award, which recognises both charitable and artistic achievements, has been bestowed upon Young, Mitchell, Quincy Jones, Paul McCartney, Aretha Franklin, Stevie Wonder, Bruce Springsteen, Tom Petty, Carole King, and Fleetwood Mac, among others.
In 2019, Crosby was the focus of his own documentary. David Crosby: Remember My Name, which debuted at Sundance and was bought by Sony Pictures Classics after intense bidding, was produced by Cameron Crowe. A self-examination of the life and career of a 77-year-old musical great seeking a creative resurgence. Remember My Name was an expression of his regrets, worries, enthusiasm, trust in family, and the transformational power of music.
Crosby, a famous and regular contributor to Twitter, posted yesterday about his appreciation for Greta Thunberg and identified "Eleanor Rigby" as his favourite Beatles song.