According to Mansion insiders, Secrets of Playboy includes personal tales of alleged assaults by Hugh Hefner, including a Playmate of the Year who was "brutalized" and "wrecked" by the magazine magnate. Secrets of Playboy, an A&E docuseries, has spent weeks exposing Hugh Hefner's network of alleged sexual abusers. The newest episode focused on Hefner himself, proclaiming him the Playboy empire's "Number One Predator."
PJ Masten, who worked for Playboy from 1972 to 1982 and dated the head of Playboy security, claims, "It wasn't Hefner's buddies, his friends, the big VIPs." "It was Hefner himself," says the narrator.
On Monday's episode
Many eyewitnesses — including one woman who alleges she was drugged and raped by Hefner — reveal what Hefner was reportedly capable of within the walls of the Playboy Mansion, his self-contained sexual playground.
(The allegations described in the episode have not been verified, and A&E warns viewers that "the great majority of allegations have not been the subject of criminal investigations or charges, and they do not constitute proof of guilt.")
'It's Safe Here,' says the narrator.
Susie Krabacher, then known as Susie Scott, claimed she was 17 years old when she appeared for the May 1983 Playmate of the Month centrefold, but Playboy didn't print it until she was 18 years old, according to other Playmates. She'd moved to Los Angeles at the age of 15 after years of claimed sexual abuse by her grandfather, and she wanted to earn enough money to assist her brother join her.
"I knew what I was doing was wrong," she said, "but I figured, 'God's going to forgive me.'" That is a once-in-a-lifetime opportunity, and I'll never be able to make this much money again.'"
She remembered, "When I first arrived at Playboy, I believed doing the centrefold would be like regaining my authority. I possessed it, but it was back to me."
Krabacher was torn apart when he moved into the Playboy Mansion in 1983. She was still processing her childhood trauma, but she knew that she needed to campaign for herself to be named Playmate of the Year since it would provide her with a larger platform and more financial security.
Krabacher has hazy memories of the time after she took the medication.
She stated, "I don't recall laying down." "I don't recall saying anything about Playmate of the Year to him." He was on top of me when I awoke. My pants and pyjama bottoms were off, and he was naked. It didn't seem workable, so I believed I was having a nightmare."
"I felt I was reliving the last time my grandfather did this to me," she said. This elderly gentleman with his mouth wide open was real. He was Hefner, and he was a genuine person. He had the appearance of Satan. He had the same expression that my grandfather did when he did it.
I'm afraid I won't be able to tell you. It was creepy. It was eerie." "There must be some common monster that comes in and looks the same."
She has now questioned the alleged assault's motivation.
"I was so mortified the next morning that I wanted to die," she recalled. She claimed she confided in Marilyn Grabowski, then one of Playboy's top editors, who told her, "It's nothing, he won't even remember it." (Marilyn Grabowski has indicated that the charges about her comments are false, according to A&E.)
"He was so amazing at making you feel like you were the only thing in the world and the most beautiful thing," Krabacher claimed. "Until the next Playmate came along, he didn't care if you were broken, anorexic, or addicted."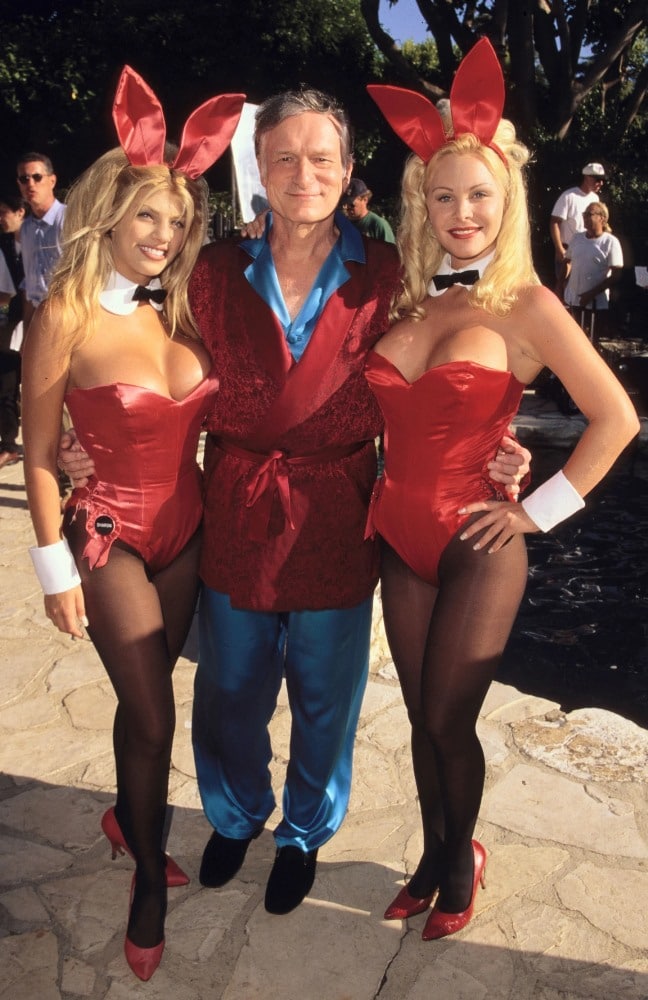 'I was under the age of majority.'
After meeting Hefner at one of his many hedonistic house parties, the former Sunday school teacher turned 1977 Playboy magazine centrefold model began dating him. According to the women in the docuseries, high rollers like Bill Cosby, Tony Curtis, Wilt Chamberlain, and Arnold Schwarzenegger were regulars at the weekly parties. In vintage footage from the film, Schwarzenegger is seen placing his arms around the waists of two Playmates and kissing them on the lips.
'Don't Mess with the Sheriff's Girl.'
No lady was off-limits for Hefner, according to Playboy Mansion insiders. "Hefner was especially interested in her because he thought she had the potential to be a major celebrity," Miki Garcia, Playboy's Head of Promotions from 1973 to 1982, remembered. According to Tetenbaum, Stratten paid the price for his blunder by "being brutalized."
IN THE END
In the documentary, a vindicated Garcia tells Theodore, "We got Hugh Hefner's last statements on what happened to the sex videos." Despite their triumph, Theodore still feels "guilty" for not being able to prevent Hef from committing wrongdoing in the past. (A Playboy spokesman did not return a request for comment on the documentary.)
Theodore told The Washington Post, "He's not a hero, but he could have been." "He had the potential to be a great man, but he committed all these terrible acts." And she believes Hefner would brand her "bitter" and accuse her of attempting to "rewrite history" if he were alive to see her leading the march to his reckoning.
"Well, Hef, I'm rewriting history," she boasted. "I'm going to put it right."