UML stands for 'Unified Modeling Language'. UML is used to represent the dynamics and working of a software in an easily perusable pictorial form. By presenting the various phases, stages, and components of the software as a graphical representation, it becomes easier for viewers to understand how it (the software) functions and operates. Furthermore, the diagrammatic breakdown of the software's working makes it easy for the observer to detect possible mistakes, errors, and flaws.
Here are some more benefits of UML diagrams:
They allow you to document data and information pertaining to a software
Using UML diagrams, you can easily visualize and present otherwise complex and abstract information for better perusal
With the help of UML diagrams, the laity can understand and appreciate the excellence and quality of the working of a software
Can be alternatively used to construct business plans
This is an example of a standard UML diagram. This representation shows the working of a message box software/algorithm. You can find more UML diagram template from EdrawMax Template Gallery.
UML Diagram Tools: What to Consider
In order to come up with UML diagrams, you can use either of two methods. You can use a pen and paper, and just draw everything out manually. The other option is to use dedicated software and applications. The latter is much more favorable and efficient if you are looking to make a complex diagram. Also, the various features that these software come with can help give an expert and professional touch to your work.
So, before you choose a UML diagram tools, you should know what qualities and features to look for in the same. Here are some boxes that you can check off to see whether your chosen software is worth it or not.
User-Friendliness: A diagram-creation software should be easy to use. Since UMLs can be made by users of all levels of expertise and understanding, the interface should be easy to understand and get around. Furthermore, a user-friendly software will enable you to come up with diagrams and drawings more quickly since the functionality will be quite basic
Templates and Themes: This feature is useful in all types of visual representation tools and software. By choosing a pre-set theme or template, users can save time on making the ground layout of the diagram. Similarly, users that are not very well versed in making proficient and expert-looking diagrams will be able to use these templates in order to make sure that their work doesn't look too amateurish.
Plans: Making a UML can be a regular occurrence for someone, or it can be a one-time thing. Essentially, making UMLs may not be something that an average individual has to do repeatedly. Hence, it is better to use free software. Instead of getting involved in plans and payment rigmaroles, you can choose an application that is free to use and save yourself from unneeded hassle.
Sharing: The software should allow you to easily send your work/diagram to other people via email or social media. Instead of downloading the file and then attaching it to a message/mail, you can click on a button right within the software and that will take you directly to where you can share the file.
Collaboration: There are some software that allow multiple users to work on a single project at once. They can comment on various aspects of the diagram and make their own edits which are seen by the others in real-time. This feature would be useful especially in UML diagrams. Since UML diagrams help in determining the efficacy/feasibility of a software along with detecting its flaws, it would be best to have a number of people inspecting it at once.
Here are some features and qualities that you should look for in UML diagram tools. Hereunder, we give you a list of some of the best ones you can use in 2021. Once you see these various applications, you can choose whichever one clicks with you.
5 Best UML Diagram Tools
1.      EdrawMax

Coming up first on our list, we have EdrawMax ER Diagram Tool. EdrawMax is an all-in-one diagram creation tool that you can use to come up with a large variety of different visual representations. You can come up with drawings related to Business, Networks, Engineering, and Science etcetera.
EdrawMax features a simple-to-use interface that hardly takes any time to get familiar with. Users can open up the drawing screen and drag-and-drop their desired shapes on the canvas.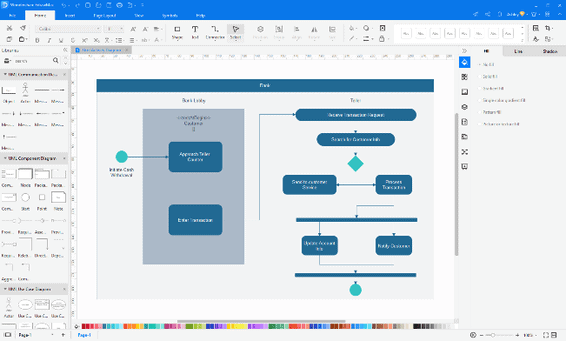 In this screenshot, you can see that on the left side, there is a library where you can choose between the different shapes. (In this particular diagram, the offered shapes are divided into categories due to their large number). At the top, you get a ribbon where you can select more editing options for your diagram.
Features:
EdrawMax is desktop and web-based can be accessed by any OS
Offers numerous pre-made templates
Can export to PDF, Word, Excel, and PowerPoint formats
Individual components can be styled differently
Simple interface with a drag-and-drop diagram creation method
Compatibility: Web, Windows, macOS, Linux
Free Trial and Pricing:  EdrawMax has a free version as well as a paid one.
Visit the website: www.edrawmax.com
2.      Lucidchart

Like EdrawMax, Lucidchart is also a web-based tool using which you can create expert-looking diagrams and representations. Lucidchart comes with a neat and clean interface along with simple functionality. This user-friendly software comes packed with some great perks and features that make it one of the best diagram-creation applications to use.
Lucidchart, apart from being an awesome diagram-creation tool, provides an excellent collaboration option to its users. Using this feature, multiple users can hop in on a single diagram to suggest changes and edits. The alterations made by others are shown in real-time.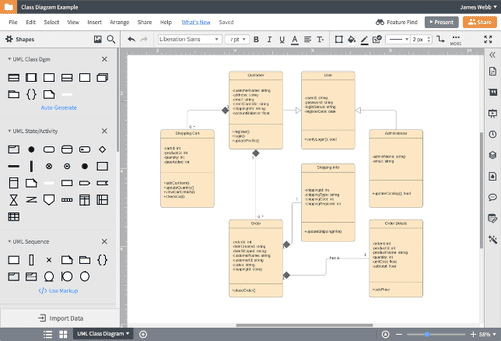 Lucidchart provides ease and efficiency for Visio users by enabling the latter to import VSD files.
Features:
User-friendly interface
You can generate visual representations from your existing files
Lucidchart integrates with other online tools such as G Suite and MS Office etcetera
Keyboard shortcuts can help you draw diagrams faster
Lucidchart allows you to create slides for presenting the completed diagram
Compatibility: Web-based, Android, iOS
Free Trial and Pricing: Lucidchart, unlike other software on the market, offers a free plan to its users which can be used indefinitely and is not just a trial. However, there are some restrictions in the free plans which can only be lifted in the full versions
Visit the website: www.lucidchart.com
3.      Visio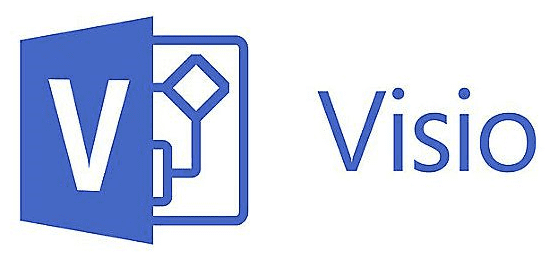 Microsoft Visio is a downloadable/web-based tool that can be used to come up with a range of different virtual representations. Using Visio, you can make flowcharts, architectural plans, data flow diagrams, business models and 3D maps etcetera. Visio features a large library for symbols and shapes that allow you to design detailed and professional-looking diagrams easily.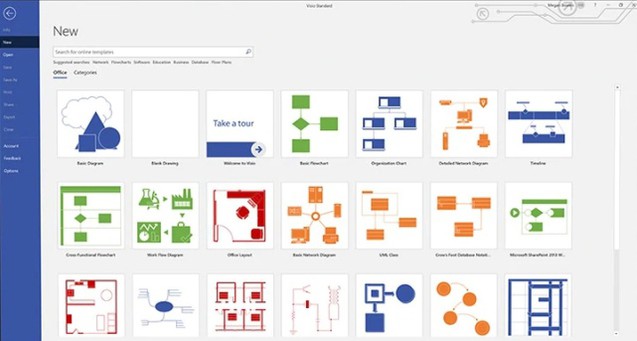 One downside of Visio is that it is not available in a free version, like Lucidchart. This fact drives users to look for free alternatives. But, if you do happen to get your hands on this software, it is an excellent way to come up with diagrams.
Features:
Large library of shapes and symbols
Numerous templates
Web-based as well as a downloadable application
Collaboration with other team members
Integrates with MS Word
Compatibility: Web-based + Downloadable Application for Windows
Free Trial and Pricing: Visio is only available in paid versions. However, there is a 30-day free trial that users can try out
Visit the website: www.visio.com
4.      SmartDraw

Like EdrawMax and Visio, SmartDraw is available as a web-based application as well as a downloadable one. You can use SmartDraw to come up with diagrams such as business plans, mind maps, genograms, and charts etcetera. There are some excellent integration, sharing, and collaboration features that you can use in SmartDraw.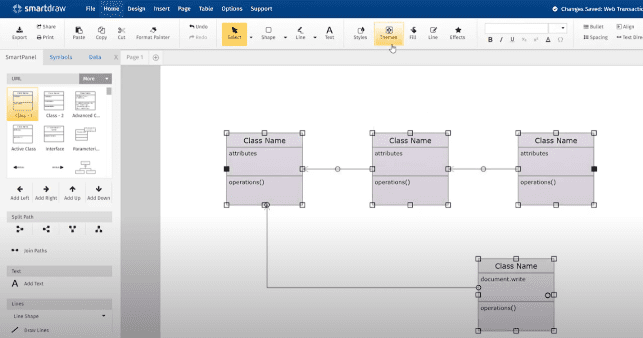 Once you are done making your diagram in SmartDraw, you can share them easily with others via OneDrive and Google Drive. You can also work with others on a single project using the collaboration feature. SmartDraw also works with other tools such as G Suite and MS Office. Visio files can also be imported.
Features:
Can be used online as a web-based application, and can be downloaded as well
Supports VSD files
Sharing options using OneDrive and Google Drive
Collaboration with other users
Intelligent formatting engine
Compatibility: Web-base, Downloadable for Mac and Windows
Free Trial and Pricing: SmartDraw is available only in paid versions. However, users can choose the 7-day free trial for a temporary experience.
Visit the website: www.smartdraw.com
5.      Gliffy

Gliffy is a web-based diagramming tool that you can use to create flowcharts, UML diagrams, and floor plans etcetera. Using Gliffy, you can collaborate with other team members on a single diagram in order to gauge the feasibility or detect possible errors and omissions. Like EdrawMax, Gliffy also has a simple drag-and-drop interface. Anyone, even a person with little knowledge about diagramming, can come up with awesome-looking visual representations.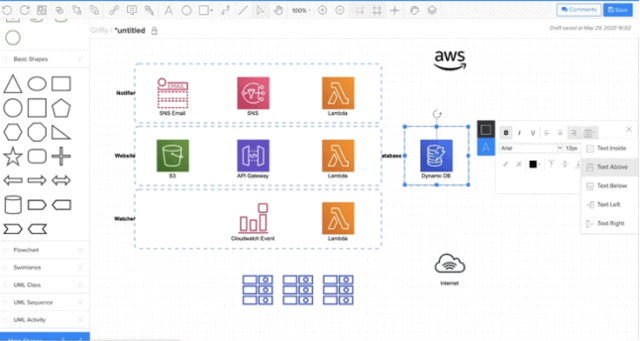 Since it is web-based, you don't have to worry about downloading or installing the software. You can work instantly online and store your data on the cloud. Gliffy is an efficient diagramming tool that you can use from anywhere, as long as you have access to a web browser.
Features:
Share with others using URLs or embedding
Collaborate with other users
Integration with Atlassian
You can import existing diagrams, and export new ones for easy storing/sharing/viewing
You can roll back your work to a previous version
Compatibility: Web
Free Trial and Pricing: It has a 2-week free trial that new users can try out. The full version is available in Professional and Enterprise version
Visit the website: www.gliffy.com
Conclusion
If you are looking for a UML diagram tools, take a look at the software listed above. In this post, we looked at some of the best UML diagramming applications that you can use in 2021.
Using these tools, you can come up with awesome-looking representations easily. Some apps go a step further to give you collaboration and sharing features. After reading about this different software, you will be in a better position to decide which one is most suited for your requirements.