Emma Heming Willis revealed her 2019 vow renewal with spouse Bruce Willis to commemorate their 14th wedding anniversary in light of the actor's recent diagnosis with dementia.
Heming Willis, 44, posted an Instagram Reel of their 10-year anniversary ceremony on Wednesday, accompanied by the Coldplay song "Fix You."
She captioned the photo by explaining that Demi Moore, 68, was the ex-wife of actor Bruce Willis, and that Willis' daughters Rumer, 34, and Scout, 31, performed acoustic guitar-accompanied songs at the small outdoor party.
Tallulah, 29, the third daughter of Willis and Moore, did not appear to be present, despite being photographed with her father recently.
Mabel 10, and Evelyn 8, daughters of Bruce Willis and Emma Henson Willis, were the flower girls and wore identical white floral-patterned gowns as their mother.
Stephen Eads, Willis's longstanding acquaintance and film producer, officiated the ceremony.
"On the occasion of our tenth wedding anniversary, we decided to renew our vows in the same location where we exchanged "I do" in 2009. Heming Willis wrote in the post, "I'm so happy we did."
"Take advantage of every opportunity to revel with family and friends. Those are the precious moments and memories that you carry with you for the rest of your life. And we get to preserve these memories for those who might not be able to," she continued.
The "Die Hard" actor's family disclosed his diagnosis of frontotemporal dementia last month, after he retired from acting in March 2022 due to his battle with aphasia, which can impair a person's ability to speak, write, and understand language.
The blended family wrote in a joint statement, "This is a very difficult time for our family, and we are so grateful for your ongoing love, compassion, and support." "We are navigating this as a strong family unit, and we wanted to include his admirers because we know how much he means to you as much as he does to you.
This past week, Willis' loved ones celebrated his 68th birthday with a party. Heming Willis acknowledged that the day had a bittersweet flavor.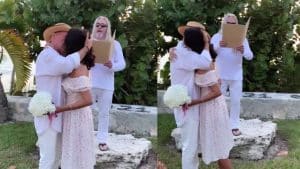 In an Instagram Reel in which she acknowledged admirers for their well-wishes but also disclosed that she had been weeping all morning, she said, "I think it's important that you see all sides of this."
Bruce Willis and Emma Heming renew their vows on their tenth wedding anniversary: "Keep memories safe and alive."
When I talk to folks, I always hear the same thing: "Oh, you're so strong." I have no idea how you do it. I have no choice," she wrote, adding that she is putting on her "big girl underwear" in order to be strong for their young daughters.
Heming Willis added, "I do experience sadness and grief on a daily basis, and I'm really feeling it today on his birthday."