The world premiere of Romain Gavras' Athena, an immersive modern tragedy, will take place on September 2 at the Venice Film Festival, and you can watch the first trailer for the film right here, courtesy of Netflix. It will be released globally on Netflix on September 23rd, following Athena's Lido debut.
This is Gavras' third feature film, and he worked with Elias Belkeddar and Ladj Ly (Les Misérables) on the script for Athena. Producers include Ly and Gavras as well.
The story opens shortly after the mysterious death of a young boy, who left behind three brothers and a distraught community in the eponymous Athena housing project outside of Paris.
Abdel, played by Dali Benssalah in a breakout performance, is a French soldier whose family has been torn apart after the death of his younger brother in an alleged police altercation. He is torn between his younger brother Karim's (played by Sami Slimane) desire for vengeance and his older brother Moktar's (played by Ouassini Embarek) involvement in criminal dealings, and he struggles to keep the rising tensions under control. As the crisis worsens, their hometown of Athena becomes a besieged stronghold and a tragic setting for the entire family and beyond.
In a recent interview with Deadline, Gavras stated that the movie was "imagined as a Greek tragedy, and ultimately the tragedy is a kind of inexorable advance towards chaos." According to the director, "with a simple idea of being inside a spark that could set the nation ablaze in real time," the script was conceived.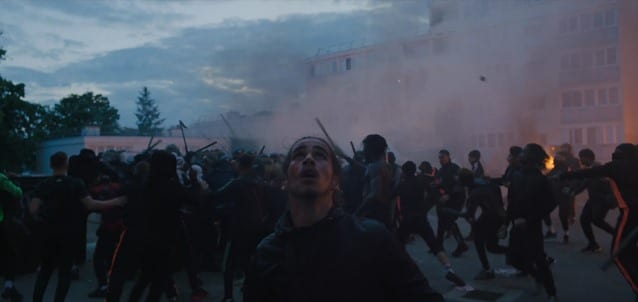 Gavras said that the cast and crew spent eight weeks in rehearsal before shooting for 52 days outside of Paris without the use of computer-generated imagery (CGI) in order to achieve the film's numerous extended, complex single-shot takes. "The fights are real, and the pyrotechnics are real," he told me. "It's always hard to create an impression of chaos, hysteria, and violence," he added, but the process had "an almost military organisation."
The epic and the personal are both represented in the film. It was conceived and choreographed almost like an opera, but always in a very realistic way so that the choreography isn't felt, Gavras said. "There is a heightened reality layered onto the present with very strong symbolism—almost mythological shots—to create a sort of timeless war."
With only 97 minutes, Athena aims to grab its audience by the throat and not let go. You can't be boring for even a second when making a film for a platform. Gavras believes that "you have to catch people and not let them go," and he credits Netflix with "really letting me do and pushing me to do the film we wanted to do from script stage."
Athena is "a story of brotherhood and this familial violence that is going to overflow the neighborhood and then the country," Gavras said. Brother turns on brother in civil wars, and then family against family, and finally nation against nation.
Cast of Netflix movie Athena 2022
| | |
| --- | --- |
| Lanett Tachel | Bradley Fowler |
| Redaric Williams | Sarah Mae Agnew |
| Steven P. Nemphos | Elliott Ehlers |
| Anjianna Grasso | Christopher M. Dukes |
| Andrew J Katers | Tony Grant |
| Marissa Shankar | Paul Root |
| Marvin Ryan | Johnny Marques |
| Aleta Soron | Dazelle Yvette |
| Robyn Ashley Dennis | |