Are you an 18-year-old planning to visit Las Vegas? Contrary to popular belief, many of the shows and activities in Las Vegas only require you to be 18 years old to experience them. If you do not try to gamble or drink, you can find plenty of exciting things to do during your Las Vegas trip.
Here are the top seven things to do in Las Vegas for 18-year-olds.
1) Jabbawockeez
Jabbawockeez is an entertaining, family-friendly dance show featuring skilled anonymous dancers with white masks on their faces. Their synchronized dance moves visually represent the music playing in the background. Adult teens love Jabbawockeez because of the portrayal of athleticism, rhythm, choreography, and creativity with the dance moves. Regular shows don't have dance crews quite like this one.
Jabbawockeez is the number one faceless dance crew in the United States. They first gained national fame by appearing on "America's Best Dance Crew." Even more impressive is that they are the first headlining dance crew to perform on the Las Vegas Strip. You can see them at the Jabbawockeez Theater of the MGM Grand Hotel.
2) Big Apple Coaster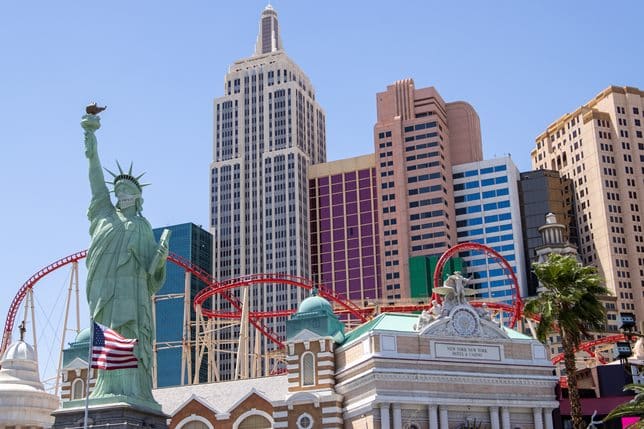 What young adult doesn't love to ride roller coasters? The Big Apple Coaster at the New York-New York Hotel is an exciting roller coaster with a unique 180-twist that will keep your stomach turning. Most 18-year-olds will want to ride the Big Apple Coaster at least one time because it is unlike any other roller coaster in the country.
In addition, to the fast speeds and 180-degree twist, the Big Apple Coaster will give you up-close looks at the recreated NYC buildings and landmarks, such as the Empire State Building and the Statue of Liberty. It is like the thrills of NYC and Las Vegas combined into one attraction.
3) The STRAT Thrill Rides
The STRAT Hotel has a tower nearly 1,200 feet high. Going up about 900 feet into the tower, you will reach an area with three thrill rides: The Big Shot, X-Scream, and Insanity.
The thrill rides will keep your heart pounding the entire time you experience them. They will cast you over a hundred feet into the air, dangle you 27 feet over the tower's edge, and other scary surprises. So if you're an 18-year-old who likes to be scared, you will have the experience of a lifetime at any of the three rides at the STRAT Tower.
4) Carrot Top
Carrot Top is America's favorite orange-haired comedian. He has performed comic residencies in Las Vegas for over 25 years. People know him best as the prop comedian because he often uses a trunk full of props to assist with his comedy routine. You never know what weird or exciting things he'll pull out of that trunk. But whatever they are, they will make you laugh.
Guests must be at least 16 years old to attend the Carrot Top show at the Atrium Showroom of the Luxor Hotel. Carrot Top's style of comedy is perfect for young adults because he is silly, funny, eccentric, and wacky at the same time. Visit the Vegas Lens website to learn more about Carrot Top's show and any recent promo codes and ticket discounts available for it.
5) Red Rock Canyon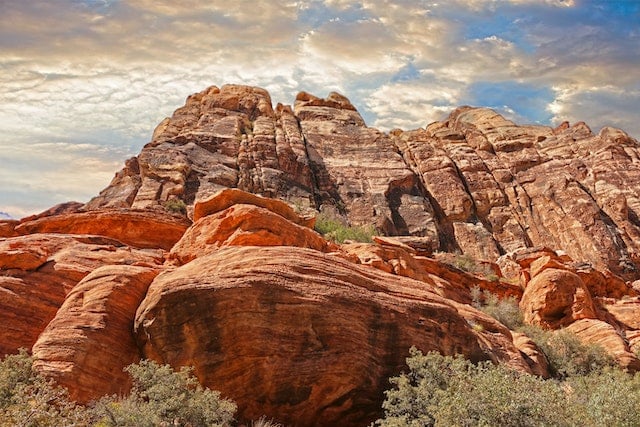 Red Rock Canyon is a massive series of red rock formations and desert terrain about 30 minutes outside the Las Vegas Strip. An 18-year-old with energy and athleticism will want to visit the Red Rock Canyon to explore, tour, or enjoy a good hike.
Numerous hiking trails throughout the canyon offer picturesque views of the desert terrain and red rock formations. It is the perfect place for an 18-year-old to jog, run, walk, or cycle.
6) Find the Secret Pizza Restaurant
How would you like to go on an exploration adventure to find the hidden unmarked restaurant known as "Secret Pizza?" It is a fabulous pizzeria in the Cosmopolitan Hotel, but it is not marked or promoted in the hotel. So instead, you have to find the pizzeria by following the trail of records posted on the walls of the third floor. Of course, if you don't know that ahead of time, it'll take you even longer to find the restaurant.
An ambitious and hungry 18-year-old will be up for the challenge of finding the Secret Pizza restaurant. Once you do, you'll find several delicious pizza options on the menu. Some of these include
7) Helicopter Tours
You only need to be 18 years old to experience a helicopter tour in Las Vegas. The helicopter tour can fly you over the Las Vegas Strip, Fremont Street in Downtown Las Vegas, and outside the city to Red Rock Canyon, Hoover Dam, and the Grand Canyon. Imagine seeing all of these beautiful and historic places from the sky as a new young adult. It is an experience that will make other adults back home envious of you.
Conclusion
Las Vegas is a fantastic city to visit on or after your 18th birthday. It offers many opportunities to feel like an adult for the first time by experiencing thrill rides, hiking adventures, helicopter tours, and entertaining shows. Most of these activities only require you to be 18 years old to enjoy them alone. So even if you have no one to come to Las Vegas with you, you can still have an amazing experience by yourself.