Vinland Saga is an anime series based on Japanese manga series. This series is full of fighting and action scenes and has historical background especially Norse history and myths. It has written and illustrated by manga author Makoto Yukimura while published and directed by Kodansha and Shuhei Yabuta respectively. The first season started airing in July 2019 which ended in December of the same year having 24 episodes. The first season acquired tremendous global viewership and now they are clamoring for the release date of Vinland saga season 2.
Vinland Saga season 2 has been announced !

Excited to see what happens next in this story 🔥 pic.twitter.com/73HHf9iiR4

— Plot Armor (@plotarmoryt) July 7, 2021
The manga series published in two magazines; Weekly Shonen and Monthly Afternoon. Till 2019 the series has assembled in twenty-three bound volumes. It gained license by Kodansha USA to be published in English-language.
Characters of Vinland Saga Season 2
Season 1 had the following main characters that gladden the audience. According to the director of the series Vinland manga season 2 would have some of the same stories as season 1. So it can presume that the upcoming season would have a few of the same characters as season 1. The main characters of the first season are the following.
Thorfinn is one of the main characters. He was voiced by Yuto Uemura a Japanese actor and singer. While he voiced by Shizuka Ishigami in childhood. He was representing a historical personage Thorfinn Karlsefni. He was a young warrior in Askeladd's company and hated him too. Thorfinn had superb physical talent that was inherited from his father.
Askeladd luminary voiced by Naoya Uchida. Ten years before the storyline of Vinland Saga Askeladd committed Thors to assassinate. But after some events, he manipulated Thornfinn's desire to take revenge on his father from him. In the series, he had shown a skilled fighter. Askeladd's father's name was Viking Olaf and he was the son of a slave woman to whom he treated badly. He got the name Lucius Artorius Castus from his mother but he got the nickname Askeladd which means "covered in ash" as he worked for a blacksmith at an early age.
Thors stellar character is voice by Kenichiro Matsuda in the series. He was the father of Thorfinn, a Jomsviking who had expertise regarding war. After the birth of his children, he wanted to have a peaceful life with his family again. So in the Battle of Hjörungavágr, he showed that he had died. Thors became a pacifist farmer and moved with his family in secret. Later Jomsvikings discovered him alive and forced him to come back to the battlefield. He was betrayed by Askeladd in his way. Thors demonstrated the greatest fighter throughout the whole series until his death.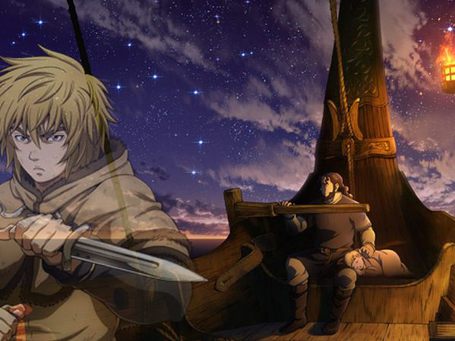 Kenshō Ono's voice had used for Canute. He is playing the role of Prince of the Danes and 17 years old. At the start, he has portrayed as timid and womanly. His womanly traits cause mockery by the Vikings with whom he worked. He was unable to do anything without his retainer Ragnar. He had a strong faith in Christianity. After the death of Ragnar, his personality transformed. He became strong and kingly and had set his heart to create a utopia on earth. His character indicates towards a historical King Canute the Great who was Danish ruler of England.
Why Thorfinn want to take Revenge on Askeladd?
Before giving a brief detail about Vinland Saga Season 2 here is the storyline of the first season. It revolves around a Viking lord name Thors Snorresson. He is the proponent of the anime series; who relinquished a battle for the sake of a peaceful life with his family members again. But a former commander Askeladd who hired a mercenary group; wanted to take revenge from Thors for running away from the battlefield in the mid-way.
On the other side; Thorfinn a teenage warrior and son of Thors set out for exploration by ship without informing his father. But the mercenary group ambushed Thorfinn in the middle of his excursion. His father who was fighting with his all powers at last gave up when Thornfin was detained by the group. He vowed to take avenge for his father's death that's why he affiliated with the mercenary group. Now the second season will show how Thornfin will face the further hardships that would rise by Askeladd. The trailer of season 1 is below which credit is to Trailer X.
What are the Release date and trailer of Vinland Saga Season 2?
The fan following wants to see that how Thornfinn will tackle the troubles implanted by Askeladd in season 2. The show creators have tight-lipped about when we all can amuse by the next season, although they are teasing fans here and there. However, here is the all information that is available so far about the upcoming season.
As told earlier that show makers have kept the information in secret about the Vinland saga second season release date but here are the two hints to estimate the progress of the season.
A tweet by the director Shuuhei Yabuta in September 2020 gave some clues. The tweet contained a drawing of three main characters from the series. Drawings had some Nordic runes that translated to "season two". Whether it was a green signal for the audience or a polite way to announce that the new season is in production. However, it's all doubtful.
Abiru Takahiko a character designer tweeted in March 2021 that was possibly suggesting the working of Vinland season 2. He wrote that he has continued his participation in the production of Attack on Titan and he would like to lend a hand in The Ancient Magus Bride as a staff of Studio KAFKA. He added that he has another important work that he has to do the most.
Vinland Saga season 2 is finally in production! I can't wait to see how it turn out~ pic.twitter.com/wKbYxCAEkQ

— Lysus 🎵 Vtuber 🎵 (@Lysus20) July 7, 2021
All of these are just postulations but we all will wait with crossed fingers for season 2 of the anime. It is expected that would announce between 2021 and 2022. However, its official announcement and trailer can be expected for the fans soon.
Director of Vinland Teased Fans
An online live stream talk show held to discuss anime series new production in October 2020. In this show, the director talked about the stories of season 2. He said most of the stories of Vinland S2 would be on the same pattern as of the first season. He added that he will try to touch as many new stories as possible. Moreover; he said my discussion about a new season may not satisfy the fans but this is all that I can tell right now.
He also said the team of Vinland is working for season 2 and it will continue working on it. However, there was no official announcement on the talk show by the director.
Where Vinland Saga Season 2 would Stream?
To sum up, there is no official release date by the makers for season 2. So fans have to wait for a little longer. The first season aired on Amazon Prime. But there is no certified streaming platform for the forthcoming season to stream. There are chances for Vinland saga season 2 to stream on Amazon Prime too.