An American science fiction horror drama television series Stranger Things Season 4 episode 1 is available on Netflix, On May 27, 2022. The first set of seven episodes is available, and availability of the second set of two episodes on July 1, 2022.
Stranger Things Season 1 Episode 1, a flashback to September 8, 1979, opens Season 4. El is among a large group of children at the Hawkins National Laboratories. Puzzles and games are spreading out on the tables as they all try their psychic abilities.
In episode 1 it explained When Dr. Brenner arrives, he brings in 10 to participate in some tests. After a few warm-ups, he instructs 10 to utilize his psychic abilities to connect with nearby people. However, everything goes wrong when 11 escapes her room and causes chaos outdoors, leaving a trail of dead bodies in her wake.
What inspired the Duffer Brothers to create Stranger Things?
The 2013 Hugh Jackman movie Prisoners, in which a parent looks for his missing daughter, served as the source of the plot's first inspiration. The Duffers started talking about "more infantile sensibilities," like having a monster eat humans since they wanted the show to have more.
The show's creators are the Duffer Brothers who stated that they required four or five seasons to complete the tale they had in mind. Netflix provided them with five. The fourth season ended with many narrative threads unresolved, thus there is a lot of wrapping up that needs to be done even though there are few details available about what the final season would include. Consider how the conclusion of Season 4 might have prepared the audience for Season 5's events. The Duffer Brothers, in an interview with Collider, confirm that Will is going to be a big part of Season 5.
"Will's going to be a big part and focus is really all we can say of Season 5, in his journey. They're starting to see his coming of age, really. Which will be challenging for a number of reasons. Some of which are supernatural, but you're starting to see him come into his own."
I'm not crying, you're crying:
I'm still processing Stranger Things Season 4, Volume 2 a week after it premiered and smashed all kinds of records while trying to process that wild ending. Despite the fact that it has already been announced that Season 5 will be its final season, you can't help but wonder what will happen following the cliffhanger the show ended.
The Hellfire Club Is A Completely Radical Season Premiere Of "Stranger Things"!
There is a warning at the start of Stranger Things 4 according to Forbes
After watching the first eight or nine minutes of the Season 4 opener, it is clear why Netflix added the warning following the recent mass shooting at an elementary school in Texas.
If you want to refresh your memory before watching Season 4, go through the recap of Seasons 1-3 of Stranger Things.
Spoilers follow:
The Season 4 premiere's introduction is really unsettling. Dr. Martin Brenner (Matthew Modine) is shown in 1979 as he goes about his daily routine before entering the office. The laboratory is busy. Kids in gowns with a little number of tattoos are sitting around playing games or working on their psychic powers with scientists in solitary sessions.
Brenner leads Ten into one of these rooms and starts by showing him some forms and images before asking him to use his imagination to locate another scientist. Ten is able to, but then everything starts to go wrong. Ten starts to panic, and then we start to hear screaming. They are dead, he declares.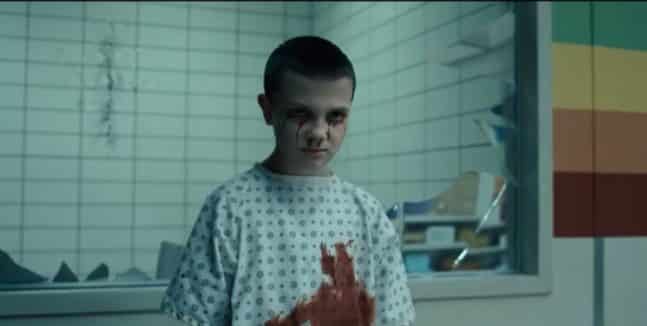 Brenner is knocked to the ground when the door to the room suddenly breaks open. Ten is gone when he awakens. He moves through the lab's smoking ruin while holding the boy's body close to his chest, obviously scared and upset. With speculation that perhaps a gate has already been opened, allowing a creature to pass through. But this is impossible. The dead youngsters and lab staff don't appear to have Demogorgon-style wounds.
After turning a corner, Brenner spots her: Eleven (Millie Bobbie Brown). She gives him a furious look in response as he replies, "What have you done?"
What have you done, exactly? Or what did you do?—is, in my opinion, crucial to the rest of the season. The new antagonist, who we only briefly see in the first episode, seems to leave the Upside Down via people's secrets or emotions of guilt and shame (I'm only four episodes in so this is mostly speculation and I don't have all the answers).
The Lich:
Vecna, the new monster, uses Chrissy (Grace Van Dien's mother) as a pawn in his pursuit of the young woman. Chrissy experiences terrifying images of her mother taking the shape of a terrifying stalker. She also experiences headaches, vomiting, and nosebleeds. She occasionally spots a grandfather clock in the forest.
The worst vision is the final one. With recently introduced D&D "freak" Eddie Munson (Joseph Quinn), a truly great new character, Chrissy has gone to his trailer park across from Max's (Sadie Sink) residence. To get away from these unsettling thoughts, she wants to purchase potent medicines. It's too late, though.
Chrissy's eyes drift over as Eddie rummages in his room looking for ketamine. Suddenly, she finds herself in her own house, where her mother is yelling at her. When she reaches her father, he is already dead with his eyes and lips stitched shut (another thing to pay close attention to as we move further into the season). The thing then enters the building and moves slowly through it. He approaches her and presses her face with his long, taloned fingers.
He rasps in a deep, horrible voice, "It's time to put an end to your long-suffering."
Eddie is attempting to jolt Chrissy out of it in the real world. He waves at her shakes her shoulders, and yells, "Wake up, Chrissy!" Then she stands up and flies to the ceiling, where she hovers. Her bones begin to fracture after a little interval. Her arms and legs suddenly move incorrectly. With a horrible pop, her eyeballs are wrenched back and into her head.
Eddie screams:
As you can tell from this summary, Stranger Things 4 has increased the level of horror. This time around, the scares are very strong, and the deaths are violent and gory. Additionally, the murderer is a sentient being rather than a savage hunter— either a strong but speechless demon, like the Mind Flayer, or a monster like the Demogorgon. Of course, the Mind Flayer could communicate with Billy, but in many ways, she remained impartial.
The Upside Down feels more intimate than ever before this time. The killer picks his victims meticulously, examining their secrets and feelings of humiliation before digging through their barriers. His search becomes intensely personal and torturously violent as he hunts them mercilessly. This season of Stranger Things, at least thus far has been the most terrifying since Will was imprisoned behind the walls of his own home in Season 1.
It makes sense that Eleven will eventually be the target of the monster because the season started with an incident that she has kept incredibly secret, possibly even from herself. What other victims must endure this horrifying, cruel death?
Stranger Things Season 4 Episode 1 the Hellfire Club
The Tigers vs The Hellfire Club:
The Hellfire Club, the name of Eddie's Dungeons & Dragons group, is the subject of this episode. You can understand why Dustin (Gaten Matarazzo) and Mike (Finn Wolfhard) would want to join the gang as junior members.
Eddie is a charming jerk. He resembles Bender from The Breakfast Club in some ways, but he is an outsider who doesn't be picked on by bullies and jocks since he is courageous and tough in his own right. He also looks to be running a very intense D&D campaign featuring Vecna, a potent lich mage.
The monster from Stranger Things 4 is the same as the one the kids are playing, as it has been in past campaigns. The Demogorgon came first, followed by the Mind Flayer, and now Vecna a potent spell caster lich.
Once more, Lucas (Caleb McLaughlin) is the odd man out. Under the charismatic jock captain Jason Carver (Mason Dye), Chrissy's lover. He has joined the basketball team that has advanced to the final game. Lucas has to decide between the championship game and the last session of this big D&D campaign because they are both scheduled for the same night.
It makes sense that he picks the basketball game, but he does so incorrectly. Typically, you would participate in the game because the school mandated it. You must play in the championship game (or any other game for which you are on the roster) if you wish to stay on the basketball team; otherwise, you will be kick-off. However, Lucas wants to participate in order to fit in with the popular kids so that he is no longer required to be a loser.
Although Mike and Dustin find this rationale to be bad and perhaps disrespectful, he is correct that he needs to participate in the game. Eddie is upset when Dustin tells him and asks the boys to find a replacement.
They decide on Erica (Priah Ferguson), the younger sister of Lucas, who ends up being the ideal candidate and a real nerd. Though in my experience you don't normally move your established character into a separate campaign like that since they might not be the correct level etc., etc. Eddie is suspicious until she rattles off her character's stats and skills and shows a clear understanding of the game.
Both the big game and the major campaign are taking place at the same time. And the broadcast alternates between them as each one builds to an epic conclusion. As the clock approaches zero and Lucas is down one point. Jason's miss shot is a rebound and he attempts a shot of his own. The Tigers finally win the championship game on their own floor after an agonizing moment when the ball is put in.
With only Dustin and Erica's characters left alive, they decide against running and instead go in for the kill. Erica rolls a 20—a critical strike in D&D—and slays the evil lich while Dustin eats it. The crowd is ecstatic in both the D&D room and the gym. The first episode of the season comes to a triumphant conclusion, and it's a lot of fun to see.
It also marks the start of the end. Chrissy goes to Eddie's trailer later that night, and you know how it turns out.
Max notices Eddie and Chrissy enter the trailer as she cares for her adorable little dog while listening to the game on the radio. The subsequent events are only "witnessed" by her.
In addition, two other characters—Steve (Joe Keery) and Robin (Maya Hawke), best friends who now work together at a neighborhood video store (damn, I miss video rental stores!)—will be attending the big game. As well, go. While driving there, they talked about Robin's current crush, which she's hesitant to come out too because Steve has graduated, and how Robin plays in the school band. Although their relationship is still sweetly long distance, Dustin is still seeing Suzie (Gabriella Pizzolo).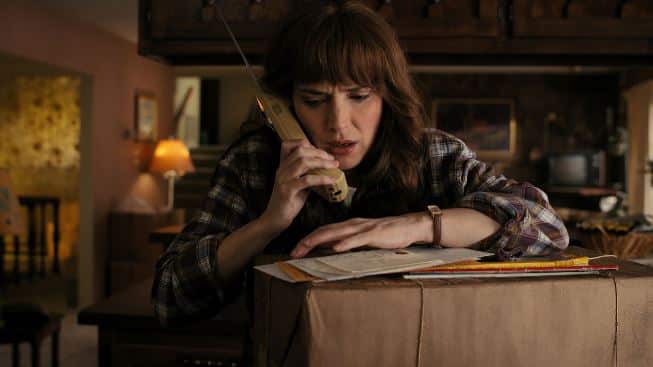 Who is Chrissy In Stranger Things Season 4?
Grace Van Dien aka
Chrissy, aka Grace Van Dien, is the head cheerleader and most popular student at Hawkins High.  Stranger things season 4 episode 1 cheerleader Playing Chrissy Cunningham is Grace Van Dien. The actress, who is 26 years old, played her debut part in a television holiday film in 2010. Since then, she has been in a number of films and television shows. That includes Charlie, Says, a film based on the life of Charles Manson, in which she played Sharon Tate.
The Fans of Stranger Things believe Chrissy's fate will haunt them for some time after it premiered on Netflix today. Three years have passed since Eleven and company fought extraterrestrial creatures from the Upside Down. However, it appears that we needed that time to get ready for Vecna. The series' main antagonist and a monster are reminiscent of Freddy Krueger.
Cast And Crew
Some new characters appear in Hawkins, even though we reintroduce Eleven (Millie Bobby Brown), Mike (Finn Wolfhard), Lucas (Caleb McLaughlin), Dustin (Gaten Matarazzo), and Will (Noah Schnapp). Eddie "the freak" Munson, the head of the Dungeons & Dragons Hellfire Club is one example.
Stranger Things Season 4 Soundtrack
You may already be aware, but Netflix's servers have just added a new season of the short-lived show Stranger Things. The seven new episodes included in season 4 volume 1 are just as exciting as the previous ones. This means there are always lots of reasons to get enthusiastic about new episodes of Stranger Things.
According to the adage "if it ain't broke, don't repair it." Stranger Things season 4 is jam-packed with adventure, horror, and science fiction set in the 1980s. Our brave Hawkins children—some of whom have since moved to Lenora Hills, California—must once more solve a riddle from the Upside Down. Who is this evil wizard Vecna, and why is he so utterly fixative on dismembering people?
However, a new season of Stranger Things also heralds a fresh set of vintage tunes in addition to all the usual entertaining scheming. The Duffer Brothers, the show's creators were born in 1984. So they presumably don't recall a lot about the 1980s. But they seem to have an uncanny grasp of what makes that era so fascinating. That is evident in the numerous season-specific Easter eggs but more significantly, it is evident in the music.
In Stranger Things season 4 music plays a major role. The California group goes to a nearby roller rink where they listen to a lot of fun '80s music. Additionally, a few songs, in particular, play significant parts in the story itself. In light of this, we believed it would be useful to have a location to compile all of the music featured in Stranger Things season 4. You can find a Spotify playlist together.
How can I watch Stranger Things Season 4 Episode 1?
Where can I watch Season 4 of Stranger Things? The second volume of the fourth season of Stranger Things will only be available to stream on the paid membership service. Because it is a Netflix original. You can find complete instructions on how to watch the final two episodes of Stranger Things season 4. As well as every episode that came before them in Part 1.
How many episodes will Stranger things 4 have?
Nine episodes from Stranger Things season four are divided into two DVDs. There are seven episodes in volume1.
We would agree that the highly anticipated return of Netflix's most popular program has been the darkest and scariest ever! In case you missed it the Stranger Things season 4 episode 1 came out on Friday, May 27. It will completely wow audiences.