The Battle for Hawkins has started.
Once again, it's Stranger Things week the Poster Teases a Showdown Between Eleven and Vecna! The excitement for the last two episodes of Season 4 is at an all-time high as Volume 2 of the season was released on Friday 1st of July. Netflix unveiled an epic new teaser, and the same week, to make the wait even more agonizing, the streaming service unveiled a brand-new poster for Volume 2 that teases the impending battle.
Poster Teases a Showdown Between Eleven and Vecna
The poster depicts the century's greatest confrontation. The menacing reds and blues of The Upside Down hang over Vecna and Eleven (Millie Bobby Brown), who is furiously glaring at each other as if they were on a vintage boxing poster. The remaining beloved characters, such as Max, Lucas, Mike, Dustin, Will, Argyle, Jonathan, and Erica, are sandwiched between the archenemies.
The other side has bicycle-riding Nancy, Steve, Eddie, and Robin, which is reminiscent of a photo from Volume 1. They are also surrounded by the eerie Creel House. However, this billboard has much more information since it depicts Hopper fending against a Demogorgon from the Russian jail while Joyce and Murray stand at his side.
Overall, the latest Stranger Things poster is a beautiful addition to the series lengthy history of outstanding posters. The hovering clock from the Creel House is a great addition that serves as a warning that time may be running out for some of our favorite characters. The poster does a fantastic job of reiterating the darker tone of this season and is an epically horrifying glance into the conflict that lies ahead, even though it actually doesn't provide us any new insight into Volume 2 given most of the events shown in the picture have occurred in Volume 1. It's terrifying to see Vecna and Eleven face to face.
Volume 1's cliffhanger finale left fans with a lot of unanswered questions and hypotheses. For instance, when Eleven transported Vecna there, did she really construct The Upside Down, or was it only the first time a gate had ever been opened?
Also, it made us worried that characters like Steve and Eddie might not make it through this season. Volume 2 of Season 4 hopes to keep up the great work that Volume 1 did by giving full answers to many of the series' long-standing questions. But if this new eerie image is any indicator, by the time the last two full-length episodes of Season 4 are finished, we might all be in a state of emotional breakdown. We're all eagerly awaiting the release of Volume 2, but The Duffer Brothers and the actors have hinted at a lot of sadness in these last episodes.
On Friday, July 1, Stranger Things Season 4 Volume 2 makes its Netflix debut. View the brand-new "battle night" poster here. teases a showdown between Eleven and Vecna below, and dreads his reappearance in our dreams.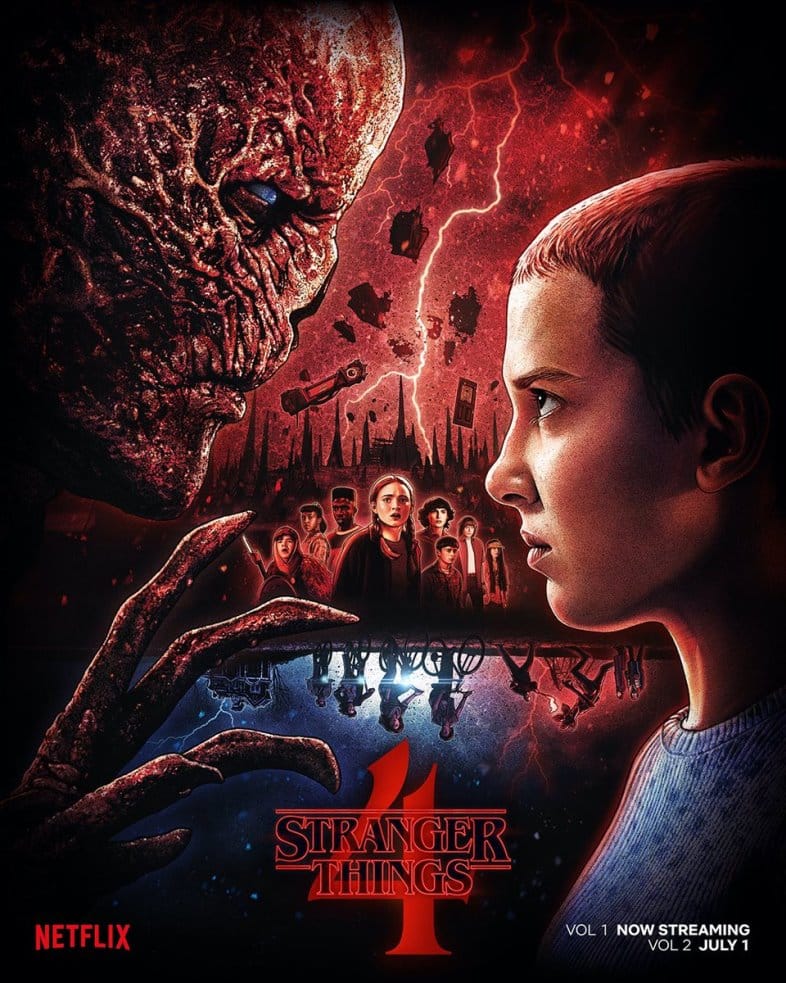 Read More Articles: