Honest Trailers returns with a Jackass movies segment that focuses on the franchise's prankster daredevils' enduring legacy.
The latest installment of Screen Junkies' Honest Trailer series focuses on the legacy of the Jackass films. These films feature the pranksters' most memorable moments from the franchise's nearly 20-year run. Jackass premiered in 2000 and runs through season 3 on MTV, starring a cast of nine buddies who prank each other and do extravagant stunts. It has generated multiple spinoffs, six films, and a video game. Jackass Forever, the latest installment in the series, will be released in theatres in February 2022.
Following the success of Jackass Forever, which debuted a few months earlier!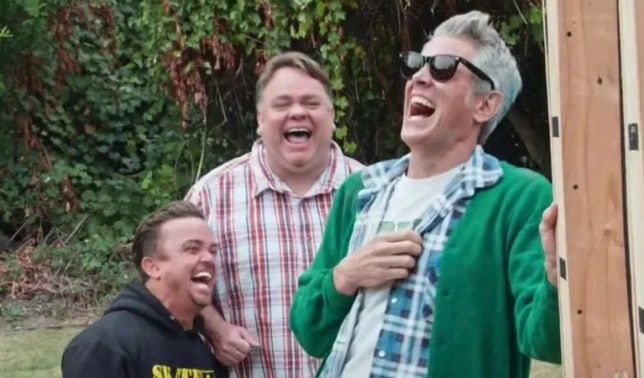 The Jackass films are the centerpiece of Screen Junkies' most recent Honest Trailer. The video mocks the group's sickening running jokes. "Bam's odd mumble voice intros," while recognizing the franchise's indelible imprint on pop culture. The Jackass Movie Trailer includes clips from all Jackass films and the original cast. Members such as comedic stuntman Johnny Knoxville, Steve-O, Chris Pontius, Dave England, Jason "Wee Man" Acura, Ehren McGhehey, Ryan Dunn (who tragically died in 2011), and Bam Margera, who didn't appear in Jackass Forever.
During their nearly 20-year tenure, the physical comedy daredevils have had a resounding influence, as this Honest Trailer highlights!
Video Credit@
Screen Junkies
The cast's risky exploits and well-known running gags have kept the Jackass franchise popular with fans.  All while repeatedly harming themselves and giving each other hearty laughs. The video boasts that the third Jackass Movie has "better 3D than Avatar," and finishes with a compilation of footage comparing the films. Notable stunts to those seen on The Simpsons, including Hans Mole man's "Man Getting Hit by Football." The latest Jackass Forever has received great reviews since its release in theatres, having a Rotten Tomatoes score of 91 percent. With the announcement of Jackass 4.5's Netflix release date, fans will have plenty more of the gang's weird and dangerous shenanigans.
Read Article: Avatar: The Last Airbender: New Cast Members & Who They Could Play?