The celebrity couple Kim Kardashian and Kayne West are always in the story for their show, lifestyle, or other reasons. Many people follow and look forward to news about them. The Kardashians keep the world updated about their life through their show Keeping up with the Kardashians. A clip of the next episode of the show was shared last week. In the clip, the audience sees Kim kardashian talking about her husband contracting Covid-19 and managing the house. But, the family informed the media that they recorded the clip months back. here we share a clip from hayU
Kayne West told media that he contracted Covid-19 in February 2020, when the outbreak happened initially. The sneak-peek of the latest episode of Keeping Up With The Kardashians showcases Kim having a hard time quarantining.
She is alone with her four kids North, Saint, Chicago, and Psalm, aged seven, four, two, and one. She can be seen agitated when putting on makeup and says that her kids wouldn't leave her for a minute. The clips show that Kim definitely had a time quarantining with 4 kids when Kayne was suffering from the virus. She tells her mom that all the kids want to be with her at the same time.
Is Everything Fine Between Kim and Kayne?
She expressed her distress to a magazine as, "I, hear Chicago crying in the other room, and I don't care." She added that it's difficult to comprehend what's going on with everybody in the house and manage everything simultaneously. It is also reported that Kim and Kayne went on a vacation due to some conflicts between them. They took their children on a Caribbean trip, which was talked off as a make-up or break-up trip for their marriage.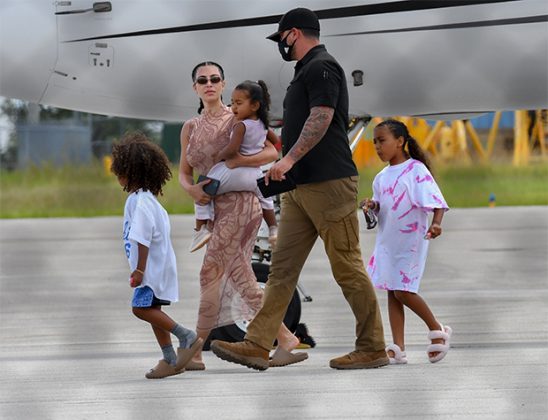 Kayne further said that he spent his quarantine shivering in bed, taking hot showers, and browsing the internet. He informed the magazine watching videos on the internet with guidelines about the disease helped him a lot. He is back in the news with the announcement of participating in the elections. Kayne participated in the presidential elections, yet unfortunately, he could not brag about a huge vote count.
Kim's 40th Birthday Bash!
Further recent news about the Kardashian family includes Kim's 40th birthday bash, which she celebrated on an island. Kim faced backlash by people for flying to another place amidst a pandemic. But that didn't stop her from doing so. Pictures from her 40th birthday bash have been pouring in all over social media, and she seems quite happy. The initial tweet by the actress mentioned the screening of all her friends and family members prior to the trip. Yet, the memes didn't come slow. Let's not forget that Kim's dress for her 40th birthday alone costs $10,000.
The next episode of Keeping up with the Kardashians has a lot more for their fans, including Khloe's imaginary friend during quarantine, Kim coping up with her children while Kayne is quarantining, Kendall and Kylie's patch-up after their previous fight, and much more!